In Blackmailed into the Marriage Bed by Melanie Milburne , Vinn Gagliardi needs his wife back, if only to show his ill grandfather that they've reconciled.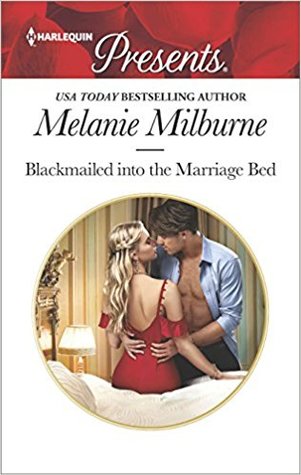 However, Ailsa doesn't make things easy for him, so he has no choice but to blackmail her. Will Vinn and Ailsa get their second chance at forever after, or will Ailsa walk away again because Vinn will never be able to love her the way she deserves?
"Are you mad?"
"Not mad. Determined to get my grandfather through this without adding to the stress he's already going through," Vinn said. "He's a family man with strong values. I want those values respected and honoured by resuming our marriage until he is well and truly out of danger. I will allow nothing and no one to compromise his recovery."
Ailsa got to her feet so abruptly the chair almost toppled over. "I've never heard anything so outrageous. You can't expect me to come back to you as if the last two years didn't happen. I won't do it. You can't make me."
What an interesting read Ms. Milburne has penned in this book, which encompasses the second chance romance and enemy to lovers tropes; two main characters that challenge each other and have fantastic chemistry; and the dialogue was riveting, as the heroine is determined to fight the hero, even though she would do anything for her brother. However, it was from the moment the hero and heroine come face-to-face for the first time where this story really takes off because the hero will use any means necessary to get what he wants. How far is he willing to go to get the heroine to agree to his plan?
Both the main characters are strong-willed and determined to get what they want. Will either of them compromise what they want for the future since the heroine is all about her career while the hero was looking to start a family. Moreover, the heroine is strong, brave and I could understand why she never wanted to have a child of her own after learning why her mother treated her the way she did growing up. Will the heroine change her mind? Will she and her mother ever be able to have a normal relationship? While the hero, he owes so much to his grandfather and I liked that he would do anything for the man, even if it means reconciling with the woman that left him. I also liked how determined he was to work through their differences that have been keeping them apart, especially since the heroine needs to talk about everything that's keeping her from wanting to have a baby. Will the guilt Ailsa feels about her existence and how it's had such an impact on her mother ever be something she'll be able to get over?
"You want me so bad you're shaking with it."
"I'm shaking with anger and if you don't get your hands off me this instant I'll show you just how angry," Ailsa said through gritted teeth.
He gave a deep chuckle and slowly but surely coiled a strand of her damp hair around one of his fingers, inexorably tethering her to him. "I've missed your temper, cara. No one does angry quite as sexily as you. It turns me on."
Overall, Ms. Milburne has delivered a really good read in this book where the chemistry between this couple was intense; the romance passionate; and the ending had me loving the hero's grandfather and the advice he gave Vinn; advice that Vinn desperately needs to be able to win the heroine back once he realizes how in love with her he was. However, it was the epilogue that wrapped this story up nicely because of the surprise the hero and heroine have. I would recommend Blackmailed into the Marriage Bed by Melanie Milburne, if you enjoy the second chance romance trope, the enemy to lovers trope, or books by authors Heidi Rice, Lynne Graham, Pippa Roscoe and Dani Collins.
Book Info:

Publication: March 20th, 2018 | Harlequin Presents |
Vinn Gagliardi has everything he desires… Except for his wife!
blogVinn wants his estranged wife, Ailsa, back on his arm. And given that she ran out of their marriage, he's not above blackmailing her into agreeing to his plan–a temporary reunion that will end on his terms! But passionate Ailsa meets his fire with fire. Now the challenge is on for Vinn to entice her into succumbing to his scorching seduction!