Meg Benjamin authors Bolted the second book in The Promise Harbor Wedding Series. I was lucky enough to read the first book as well. I like this series because each book is told from a different character's perspective.  The second book is written from the perspective of Josh's sister, Greta.  Greta Brewster is the matron of honor at the "almost wedding" of Josh and Allie.  Each book may be read on its on or as part of the series.  The books interconnect, and the first chapter of Bolted gives a fantastic review of the first book, Jilted.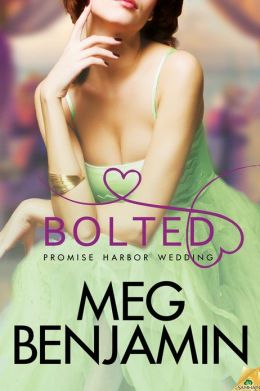 Bolted opens with Josh Brewster, Greta's brother, being jilted at the alter by his fiance Allie and her ex-boyfriend Gavin. However, the reader is seeing everything through Greta's experience as opposed to Josh and Devon's (from book 1). Greta's return to Promise Harbor is primarily to attend her brother's wedding, but also to talk with her mother about her living, occupational and martial status. Greta's life is in turmoil and returning to Promise Harbor is the first step in her trek of pulling her life together.  She is a culinary school graduate and hopes to eventually use her skills in some capacity.
It is well know that Greta makes impulsive decisions.  She decides to take off after the "almost wedding" to a decision free zone for some much needed rest and relaxation.  She needs time to veg out and not think.  En-route to a destination unknown, she saves an archeologist, Hank Mitchell, and takes him to back to his hotel.  The hotel and adjacent general store is owned and run by two eccentric old ladies in a very small town.  Hank is the only guest at the hotel.  Greta ends up staying at the hotel, cooking for the owners and baking for the store customers in exchange for room and board.
The story continues with Greta's new life at the hotel.  She and Hank get steamy and the owners offer Greta a future involving her love of cooking.
I liked this book by Meg Benjamin and look forward to the next one in the series, Busted.
Book Info
Publisher: Samhain Publishing, Ltd. (April 2, 2013)
Sometimes you have to get lost before you can find yourself.
Promise Harbor Wedding, Book 2
Greta Brewster McBain is in a bind. Two, if she's really counting. First there's the can-barely-breathe bridesmaid's dress from hell. Second, the stranger who just carried her "perfect" brother's fiancée out the church door has made it impossible to tell her own mother about her own divorce.
Rather than confirm her reputation as the family screw-up, Greta takes a drive to clear her head.
Trapped in a hole and unable to reach his cell phone, Hank Mitchell is resigned to becoming a permanent part of his own archeological dig when help arrives—in the form of a woman who looks like a Gone With The Wind refugee. Behind the ruffles and lace, though, is something he appreciates: a woman who isn't afraid of a little dirt.
Their instant connection draws Greta into the eccentric world of the Hotel Grand, where she impulsively trades her hoopskirts for an apron. Soon things are getting hot—not only in the hotel kitchen, but in Hank's arms…
Warning: Contains hot moonlit sex, a melancholy turtle, two wisecracking seniors, and the world's ugliest bridesmaid dress.