In Bombshell by Jody Gehrman, Ruby Sugars knows she's good at her job as a copywriter. She's contributed more to land the company's clients than anyone else in her department. Yet, when she walks into the office every day, she feels mousy and ashamed of her not-a-size-two body. Ruby's boss is probably the worst at pointing out how different she is than the other workers and uses that to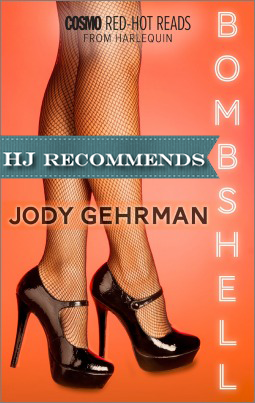 belittle her. But her persona at work is definitely not the same girl that she is at home. Nope. At home, Ruby is actually into the girly pin up look of the fifties, corsets and all.
"You need to let your inner minx out."
"My 'inner minx'?" I repeat, my tone dubious.
…"You've got a bombshell inside you begging to be unleashed. Until you let her out, you'll be stuck."
After a particularly embarrassing day at work, Ruby's best friend talks her into a blind date with a guy who appreciates the pin up girl look. The idea is to have a one time hook up with someone who will help boost her confidence. And that it certainly does. The heat level between Ruby and "Lancer" is off the charts and their incredible night is one that she'll remember forever. But when he unexpectedly turns out to be her boss Colin, she's not sure if she can face him again. Because Ruby knows if she's in the same with room with Lancer, er–Colin, she will never be able to concentrate or forget the seductive things he whispered.
'My body, a source of embarrassment for so long, suddenly feels like a powerful weapon, something capable of bringing grown men to their knees.'
Bombshell is an super fun novella that not only has some very sexy scenes, but it's also an honest look at what some of us who are on the more, let's say, voluptuous side go through–and put ourselves through–on a daily basis.
I really connected with Ruby right away. And no, not just because we both share the same body type. 😉 I think it was because personality-wise she was so much like myself and many women I know. We have to put on a certain face or persona at work and often times it's quite different than who we are in our personal lives. In Ruby's case, she needed to let her inner vixen out. I loved that her best friend looked out for her and was trying to help her in this process while Ruby gained back her self-confidence. And the plan they devised together at the end of the story was so outrageous and just absolutely perfect. I wish I had the nerve to do something like that…(you'll see what I mean!)
The writing style Jody Gehrman used was both smart and funny. There was snappy dialogue and some extremely provocative love scenes. I honestly think Ruby and Lancer/Colin's scene in the hotel has to be one of the hottest I've read in quite some time. *fans face* I enjoyed the chemistry between them from the very beginning and hoped they would work through the obstacles in their way so they could form a relationship. I liked how it all worked out at the end and that Colin was the guy I pegged him to be. Along with having a seriously dirty side to him that was oh-so hot.
I hope you enjoy Bombshell as much as I did. I had a blast following Ruby as she grew from an awkward copywriter to a sultry siren who went after what she wanted.
Book Info:

Published September 10th 2014 by Harlequin – Cosmo Red Hot Reads from Harlequin
Copywriter Ruby Sugars is in a rut. Her life consists of the following: long hours, boring neutral colors and regular fat-shaming from her stick insect-looking boss. But Ruby isn't really a Bland Betty—she's a complete Bettie Page hottie, with an enviable collection of vintage couture and very naughty vixen lingerie. Now if only she could channel that girl into her real life….
Cue Ruby's best friend, whose recent fixation is "fantasy matchmaking." She's decided that all Ruby needs is one night with a sexy, delectable man—one with a serious thing for curvy pinup girls. And "Lancer" is hot enough to make any girl's fantasy come true.
For one night, it's pure, X-rated hotness. But come the next morning, this brand-spankin'-new bombshell will get the shock of her life when the man she vowed to see only once shows up again…as her new boss.