In Boomerang (Boomerang #1) by Noelle August, The night before her internship at Boomerang begins, Mia Galliano evidently has a majorly good (drunken) time. Because the next morning when she wakes up hungover in a strange bed, she can't remember much. But the guy Mia awkwardly greets after waking up turns out to be going to the same place she is that day: Boomerang.com headquarters. And the surprises don't stop. Ethan not only is another intern, but he's her competition for a job at the end of the summer. Their crazy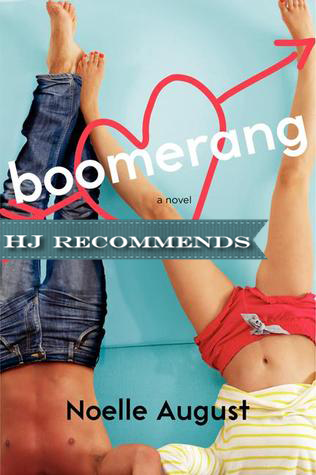 chemistry keeps her off-kilter while they work on a make-or-break project together. Will she be able to focus and get her career off the ground or will she give in to what's building between them?
'I want this job. I want to make my film. And I don't want anyone who doesn't know whether or not he wants me. Simple, right?'
Boomerang will hopefully be just the place where Ethan Vance can shine creatively, earning a permanent job in a few months so he can start paying off his student loans. Plus it will be interesting to see what goes on at a business that created a dating website for people to meet, looking for casual hook ups. Ethan can't believe his bad luck when his gorgeous one-night-stand is the other intern vying for a job. And that there's a strict policy against dating coworkers, considering he can't keep his mind or his eyes off Mia. They have a connection that is impossible to ignore and threatens to hurt both their chances at getting the job. Ethan only hopes they can find a way to work together without ripping each others clothes off first.
'This has to be our secret, or we could lose everything. No one can know. Neither of us says a word but the pact is right there, between us.'
Boomerang was a breath of fresh air in a genre that has it's fair share of dark, drama-filled novels. The writing duo that is Noelle August did a fabulous job giving us readers a romance filled with snappy, fun dialogue, and a storyline that is uniquely its own.
If you're passionate about stories that have both strong leading and secondary characters like I am, this is sure to fit the bill. Not only does Mia kick butt as a sexy and creative force to be reckoned with, but Ethan was such a stand up, genuinely wonderful guy. I liked that they were so different from each other. They grew up in completely different environments and were even pursuing different careers in the future. But they worked perfectly together as friends and as a couple. And they had some of the best bantering I've read in a while. It was fun and completely on point for their age group and lifestyle. Their group of coworkers at Boomerang also made me laugh quite a few times with their silly antics and quirky personalities.
I thought the way this was written, with dueling POVs, brought a lot to the story. Especially as Ethan and Mia tried to remember everything that happened between them that first night they met. As they each recalled more and more while the story progressed, the scene played out, building to give us a complete idea of that initial attraction. And what a wonderful scene it was. To me, it was like the all American guy meets the artistic muse and they were never the same again. I loved that no matter how hard they tried to stick to business while at Boomerang, neither one could keep their feelings in check. *sigh*
If you like New Adult novels with less angst and more playfulness, I highly recommend trying Boomerang.
Book Info:

Published July 15th 2014 by William Morrow Paperbacks | (Boomerang #1)
The first book in a sensational New Adult trilogy from Noelle August
Welcome to Boomerang.com, the dating site for the millennial gen with its no-fuss, no-commitments matchups, and where work is steamier than any random hook-up
Mia Galliano is an aspiring filmmaker. Ethan Vance has just played his last game as a collegiate soccer star. They're sharp, hungry for success, and they share a secret.
Last night, Ethan and Mia met at a bar, and, well . . . one thing led to another, which led to them waking up the next morning—together. Things turned awkward in a hurry when they found themselves sharing a post hookup taxi . . . to the same place: Boomerang headquarters.
What began as a powerful connection between them is treated to a cold shower courtesy of two major complications. First, Boomerang has a strict policy against co-worker dating. And second, they're now competitors for only one job at the end of summer.
As their internships come to an end, will they manage to keep their eyes on the future and their hands off each other, or will the pull of attraction put them right back where they started?