In Hillbilly Rockstar (Blacktop Cowboys #6) by Lorelei James, country music star Devin understands the risks that come with his job. From crazed women to anonymous threats he's used to it all. When the threats increase and the violence starts, his management insists on hiring personal security for Devin on his tour. It's Devin's life and livelihood though, and he insists that having one personal security guard is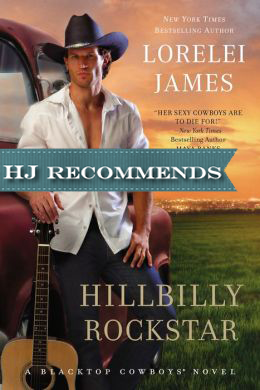 more than adequate.
He is certainly not expecting his new security guard to be Libby. Former soldier, now working as in civilian security, Libby takes her job very seriously. So when this job means she has to pose as Devin's personal assistant/everyone will assume they are sleeping together, that doesn't slow her down. Who she needs to be for the job is not her usual look…but Libby is up to the task.
Devin and Libby got off on the wrong foot with preconceived notions and bad first impressions. But there is still that little spark between them threatening to burst into flames, and spending a lot of time together alone on a tour bus only brings it to life. As they get to know each other, the attraction can't be resisted…and neither of them wants to resist. Libby and Devin do a good job of separating personal from private, and giving into temptation is hot, but what happens when the tour is over?
Lorelei gives us an unlikely match in Hillbilly Rockstar, but as I read further into the story, Libby and Devin have more in common than they first appeared to. I really enjoyed getting to know both these characters. They are both strong and independent, mature and respectful. I liked how they could admit to being wrong (first impressions!) and move on. I love that quality in characters. Both of them are under pressure from their jobs and both of them have past hurts, but they respect each other and don't play games. I really liked how well they got to know each other, past, present, inside the bedroom and out. They are a great fit, and I found myself really drawn into their story, hopeful they could find a way to stay together. Lorelei does a fantastic job of bringing Libby and Devin to life in a unique setting.
The relationship is well woven into the mystery of the threats and violence that started it all, and Lorelei keeps things lively and unexpected.
There are a quite a few secondary characters in Hillbilly Rockstar who help shape the story. Some of them I am sure have appeared in previous Blacktop Cowboy books, however I was easily able to read this without having read the other books in the series.
I'd recommend Hillbilly Rockstar to romance readers who like a steamy romance with action and mystery.
Book Info:

Published August 5th 2014 by NAL Trade | (Blacktop Cowboys #6)
She's protecting his body and guarding her heart…
Country music star Devin McClain understands there's a downside to life in the public eye, but the laidback Wyoming cowboy has never imagined he'd attract crazed fans who would do anything to garner his attention. When veiled threats become real, he agrees to hire a discreet security detail. But Devin is shocked when that bodyguard is a hard-bodied woman. He's even more stunned to be attracted to the steely-eyed stunner.
Former soldier Liberty Masterson's return to civilian life has been wrought with challenges until she lands a job with a prestigious security firm. But when she agrees to provide personal protection during a cross-country tour, she doesn't realize she has signed up to masquerade as the playboy star's girlfriend. Though she's more comfortable in combat boots than high heels, she has no choice but to appear to be the sexy groupie Devin prefers.
Living in close quarters causes the chemistry between them to ignite, and Devin realizes he wants to turn their charade of a romance into reality. Although Liberty surrenders to his every whim behind closed doors, she fears the sexy country star doesn't see the real her; and Devin can't help but worry when the tour ends that there might not be enough between them to build something that won't fade away…