Boss on Notice is the second story in the Cleaning Crew series, centered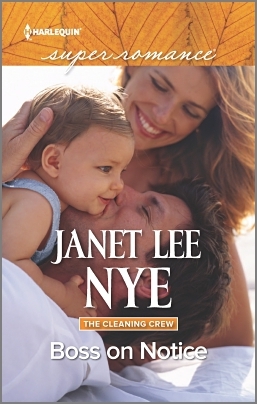 around an all male housekeeping service (with the exception of the boss lady, heroine Sadie from the first book in the series, Spying on the Boss). They've got strict rules for how they interact with clients and pride themselves on a job well done.
In this story, Josh, one of Sadie's crew is branching out on his own in a new city. He's moved from Charleston to Columbia, and is working hard at getting his new crew on their feet and hiring more employees as the business is getting a lot of interest from would-be clients. He doesn't have time for a relationship, and certainly not with his new neighbor, a pretty young woman with a son. Besides, his own personal history makes him wary of getting involved with anyone.
Mickie is starting over in a new place with her toddler Ian. Due to her own traumatic past, she's equally wary of strangers, no matter how good looking they are (such as her new neighbor). She's got plans to go to nursing school, but the job she was supposed to have to help with her bills before school starts has fallen through. As luck would have it, Josh is in need of an office assistant to help him while he expands the business. It's a temporary arrangement that suits them both, even as they try to fight their attraction to each other. As they share their pasts and hopes for the future, will it draw them closer together or make them keep their walls up to prevent the possibility of getting hurt again?
I really enjoyed this story. Right from the start I found both characters very appealing. Mickie is on the run from an abusive relationship and so used to going it on her own that she doesn't know how to take Josh's offers of help. Her sole purpose in life is to build a safe home for her and her son, and it takes some time before she trusts Josh. They eventually connect in a physical way (with mostly closed door bedroom scenes), but not before they've already opened up to each other emotionally. Josh is equally wary of heartache.
Growing up in the foster system, he's been trying to find his infant sister, and much of the story revolves around his search. There is more of a focus on Josh and Mickie as individual characters and their struggles to build a firm foundation than on them as a couple, at least until later in the second half of the story. Josh has to come to terms with his past before he can be a committed partner to a woman and her son, and doesn't take anything lightly. He comes across as a genuinely nice guy, a thoughtful and caring man and a hard working individual who expects a lot more from himself than others expect from him. Though he may not think of himself as a catch, Mickie knows better and isn't afraid to tell him so when all is said and done. There are several scenes with other members of the cleaning crew and I'm looking forward to reading more about them in future stories in the series!
Overall, this is a sweet romance with some emotional scenes and well worth the read.

Book Info:

Publication: Dec 1, 2016 | Harlequin Superromance | The Cleaning Crew #2
He can't trust himself…
Josh Sanders just wanted to help. After all, Mickie Phillips is a struggling single mom who needs a job…and a friend. Fortunately, her administrative skills are perfect for the new branch he's running of the Cleaning Crew–a company of guys who clean houses. The downside? Mickie's a petite, blue-eyed temptation he definitely needs to resist.
Their arrangement was not supposed to include simmering attraction–or deeper, decidedly unprofessional feelings. But Josh's traumatic past has convinced him he can never be the man Mickie needs. Trust will only expose them to the most dangerous thing of all…love.