Bounce by Noelle August: Coming along with her friend for a movie audition, Skylar never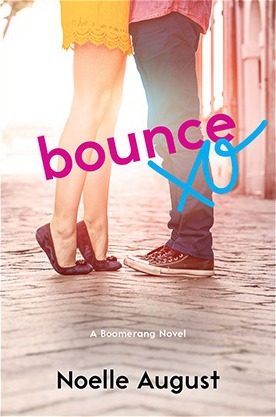 expected to be picked for lead. And she definitely never expected to end up with the best kiss of her life from the stand-in actor and brother/indentured servant to the film's producer.
After destroying his brother's house from a party, Grey now has to work for his brother on set and continue working with his band towards stardom. He's nineteen, lost, and angry at the world right now, but then comes along older, sexy Skylar who kisses like heaven but won't give him anything beyond friendship.
"Grey's tongue slips over mine, and that's probably not right, not strictly professional. But it sure feels right. I meet it with my own, fleeting, teasing –
And then I become vaguely aware of Brooks yelling, "Cut!"
As they work together and get closer, each with their own family issues pulling them apart, Skylar and Grey realize that despite their fears about each other, maybe they're perfect for one another.
Bounce by Noelle August is definitely cute. I did enjoy it, but it felt like Grey and Skylar were never together. And they didn't actually get together till the very end. There are moments of hot damn, and it's finally gonna happen, but it never actually does. I felt a bit cheated honestly.
Also, with all the issues, no one thing was ever fully explored, least of all the romance. By the end, I still feel like I don't know them.
But all that said, they're both likeable characters, and I enjoyed all their friends too, (maybe not Brooks). August just really needed to step up the romance.
If you like cute New Adults, definitely give Bounce a try. There is a simmering tension between them when they are together which definitely kept me reading.
Book Info: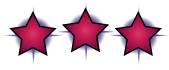 Publication: August 25, 2015 | William Morrow Paperbacks | Boomerang #3
Playing the occasional club gig just isn't cutting it for twenty-two-year-old cellist Skyler Canby, who's trying to support herself and her mother back home in Kentucky. Persuaded by her best friend Beth to accompany her on an audition for the first feature film launched by Blackwood Entertainment, she figures why not? Beth's a shoe-in for the lead, but maybe Skyler's newly dyed pink hair will help her stand out enough to score a small speaking part.
Never in her wildest dreams does Skyler imagine she'll land the lead role or that she'll have her shoes knocked off her feet by the kiss her audition partner, Grey Blackwood, plants on her—a kiss that feels very real and not at all "acted. "
After throwing a party that causes thousands of dollars of damage to his older brother's home, reckless musician Grey Blackwood gets roped into working off his debt on the set of his CEO brother's newest project. Grey spends his days fetching coffee and doing odd jobs around the studio, but he lives for nights when he performs with his band. He knows if he can stay focused, success as a singer is just around the corner. But that's tough with a distracting pink-haired girl occupying his every waking thought.
Skyler and Grey have every reason to resist each other. But, like a song neither of them can get out of their minds, they have no choice but to go where the music takes them.