Bound Beneath His Pain by Stacey Kennedy: Micah is a confident, dominant,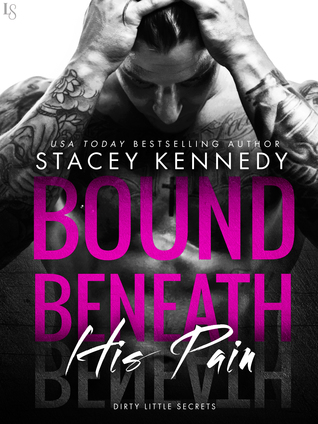 alpha male who values his privacy. He's surrounded himself with people he respects and trust in his business and personal life. He's also very much used to getting his own way. Allie loves her job in real estate. She loves the idea of finding homes where people will make happy memories. She's smart, determined, and very independent.
Allie is surprised by her reaction to Micah. She's heard of him before and seen his pictures splashed over the papers, but she's taken aback by her reaction to him. While she's not a pushover by any means, she definitely challenges Micah in a way few would think to do in her position. It's disconcerting to be attracted to your new boss.
"Sleeping on the job? I should fire you."
I smile at the low voice filling my office, partly because I love the way Micah's voice is almost caressing me with its rich vibrato. "I'm too important to fire," I muse.
"Now, that I won't argue with."
Micah isn't used to rejection and he always goes after what he wants. When the usual romantic gestures fail to persuade Allie to give him a chance, he learns to be more creative in his approach. Micah is sweet and generous; he's much more than his public perception. Allie struggles to fight the overpowering attraction in the face of Micah's determination. They have great chemistry, but both have their secrets.
I lean forward, resting my arms on the table and clasping my fingers. "We're going to hash out why you're refusing a date with me."
She sputters a laugh. "You want to have a business meeting about why I don't want to go on a date with you?"
I nod. "Tell me your objections so I can deal with them."
Bound Beneath His Pain is a hot workplace romance with an element of BDSM. Stacey Kennedy created plenty of tension and angst for this well matched pair. Ms. Kennedy created great characters in the Micah's friends and the other employees. Fans of Jen McLaughlin and Megan Crane will enjoy Bound Beneath His Pain.
Book Info:

Publication: July 5th 2016 | Loveswept | Dirty Little Secrets #1
The USA Today bestselling author of the Club Sin novels kicks off a deeply sensual new series by introducing readers to Micah, a man who takes what he wants—until he meets the one woman he needs.
Real estate mogul Micah Holt exerts absolute control over all aspects of his life. As a founding member of the Dominants Council that oversees San Francisco's sex club scene, he keeps his dark side hidden away from the press, who will chase down any hint of scandal. He's always in command of his world, careful to expose his closely guarded secrets only to those he knows he can trust. Then Allie Bennett shakes his legendary discipline. She's beautiful, pure, untainted. But is Micah willing to sacrifice her innocence for his own selfish obsessions?
When that sexy smile makes her body burn, Allie tries with all her might to ignore it. For one thing, Micah's her new boss. For another, he's as complicated as he is devastatingly handsome. Still, Allie can only fight so much before she gives in to his dangerous games. She knows he's got dark secrets. But when she discovers the true depth of his pain, Allie must decide how far she's willing to go to light the way for love.
Bound Beneath His Pain is intended for mature audiences.
Includes a special message from the editor, as well as an excerpt from another Loveswept title.