Triple Score by Regina Kyle is the perfect read this summer. Filled with heat,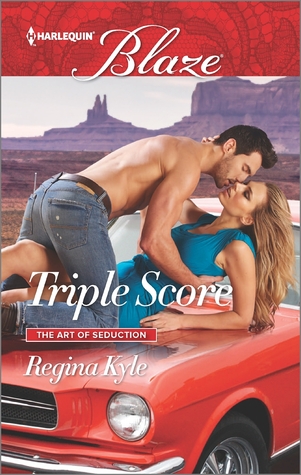 clever banter, and an intense desire to see two injured people overcome their obstacles and grow together, makes this a must-read!
Jace Monroe is a star baseball player who is nursing a torn UCL. He's in rehab to getter better and get back to baseball. Jace is use to women throwing themselves at him and he frequently takes them up on what they are offering but Noelle is different. Their banter is witty, intelligent, and it's clear they have a connection…just how deep, only time will tell.
Noelle Nelson is a celebrity in her own right. She's a famous ballerina, who tore her ACL and is at the private rehab facility to gain some strength in her knee, so she may dance again.
"Because Noelle had a mission. And a plan. And neither one included a bad-boy ballplayer with a panty-melting smile and working knowledge of the Bard."
She's determined to let nothing distract, but Jace is the definition of distraction. He's strong, sexy, and available. Since Noelle just came out of a humiliating breakup, taking Jace up on his offer, is just what she needs!
Both Noelle and Jace are in the same boat, the same situation. They both need their body to heal so they can get back to what they love, but while stuck in rehab, it's apparent that their developing relationship might just fall into the love category, as well…but when real life comes knocking out their door, how will they handle the long-distance relationship and their careers?
I loved the whole story, but there were certain points that really made the story for me. I really enjoyed how even though the characters had an instant attraction to each other, they didn't immediately throw themselves at each other. The way Jace talked about his father and was there for him when he ended up in trouble was really sweet and made me fall in love him. I also enjoyed the witty banter between the couple and how the author was able to capitalize on Jace and Noelle's fears and bring them together.
Readers looking for a fun and easy read, should pick this book up immediately and enjoy the show.

Book Info:

Publication: July 19th 2016 | Harlequin Blaze |
Knowing the score…
Prima ballerina Noelle Nelson needs to recover from her injury and return to the stage. She won't consider failure…or be distracted by baseball's resident bad boy, Jace Monroe. His tattoos, wicked smile and deliciously athletic body might drive her crazy, but a media frenzy is the last thing this good girl needs.
Jace is sick with fear that his own injury will never heal, but he's not about to let anyone notice, especially the gorgeous blonde dancer he loves to infuriate. He's pushing himself past his physical capacity, putting his future at risk. Still, when it comes to making a play for Noelle, Jace is in scoring position—and he's not going to back down!