Bound by Their Christmas Baby by Clare Connelly is a sensual second chance holiday themed romance.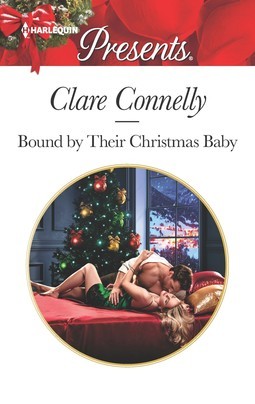 Gabe Arantini doesn't think he'll ever see Abigail Howard again. They shared one passionate night together that was ruined when he caught her trying to take photos of his company's plans and discovering that she was none other than his rival's daughter. Though Abby had tried to explain, and to contact him since that fateful night a year earlier, he'd ignored her completely.
To his surprise, he discovers her working in the kitchen of a fancy dinner party he's attending. From there come the revelations of how her life has turned upside down since their night together– kicked out by her father, working in a restaurant kitchen to make ends meet and having a baby. His baby, as it turns out. Gabe won't let any child of his grow up without knowing their father so he proposes a solution – marry him, and they'll raise the boy together. No love required, it'll be a marriage of convenience. But can he forgive Abby for her deception and give their marriage a real chance?
It takes Gabe a long time to become the real hero of this story. In the beginning he is bitter and angry, costing Abby her job and then making her move with him back to Italy. He does things like hire a nanny without her permission which make her angry, but then when they reach his beautiful Italian castle, he's outfitted the child's room with every comfort possible. Abby is torn by her conflicting feelings for the different sides of Gabe that he lets her see.
Gabe's disdain for Abby is present all the time though he manages to put it aside when they rekindle their sex life. He does start to feel twinges of remorse soon enough though for how he treats her. Abby's loyalty and love for her father got her into this mess, ruining what had been the best night of her life with a caring and passionate lover. Their son Rafael is a joy to them both and as Gabe falls for his son, he also realizes that punishing Abby will do neither of them any favors. Eventually he comes to want better for them all, and falling in love with Abby also means giving her the choice of spending a lifetime with him or strictly being co-parents. It leads to forgiveness and redemption, and a sweet happy ending for this new family.
Book Info:

Publication: Nov 20, 2018 | Harlequin Presents | Christmas Seductions #2
From under the mistletoe…
…to down the aisle!
When brooding bachelor Gabe Arantini learns the innocent beauty he shared a steamy festive night with is the daughter of his business rival, he's furious. The following Christmas, Abby returns with shocking news—she's had his child! Gabe knows he must marry Abby to legitimize his son. But can this be a marriage in name only, or will their red-hot chemistry take over?
Feel the heat in this festive secret baby romance!