In Boys and Toys by Cara Lockwood, Liv Tanaka started a job a couple of years ago that she's kept secret from her very uptight, very religious parents: she makes her living as an adult toy party hostess. And is quite successful, might she add. It's not that she's ashamed of what she does. Liv knows she helps people bring fun and intimacy into their relationships. But even though she's twenty-five, her parents will never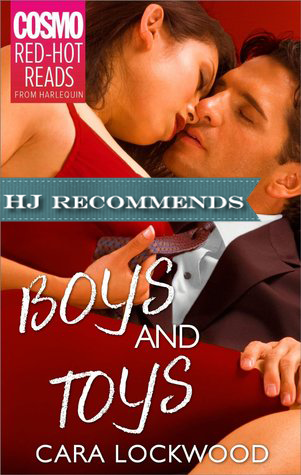 see her as an adult. Therefore she's keeping them in the dark about her real job until she can put her marketing degree to good use.
The look on Porter's face told her this was no joke, either. He was dead serious.
"Right." He nodded, eyes set on hers. "How much for a party just for me?"
One of the lawyers at her father's firm, Benjamin Porter, is a guest at a bachelor party she hosts one evening and Liv begins to worry that word will get back to her father. But Porter has a deal for her. He won't mention her job if she'll give him a private toy party for one. Liv is more than happy to get up close and personal to all that hunkiness, yet wonders if she can truly trust Porter to keep her secret.
'Being an adult meant making her own decisions, and she chose Porter. He offered the perfect blend of naughty and nice. He was right for her, and she knew it.'
I had a lot of fun reading Boys and Toys, which is a provocative new novella from Cosmo Red Hot Reads. Be ready to laugh, get angry, and ultimately root for Liv and Porter in their unusual path to romance.
Okay, so why is it that even reading about Liv's job made me giggle like a teenager? And also think it would be one of the most entertaining jobs ever? No, seriously, I really did like the premise behind this story. I think for someone like Liv who was raised by strict, traditional Asian parents to have such a liberating job–and to be so successful at it–is pretty cool. Then throw in Mr. Hotness himself, Porter (her father's coworker) and you have a recipe for a very complicated…well, mess.
I'm not a big fan of stories based on lies which then compound until they blow up in the main character's face. However, I didn't mind it so much here. I totally see why Liv would want to keep some parts of her life from her parents. Can you say smothering? Yes, it might have made them treat her as an adult sooner if she would have been more adamant with them, but I like that Porter was the voice of reason in their situation and helped her find her way. Well, he helped her with more than that, but I'll let you read about that for yourself! 😉
If you're looking for a quick and enjoyable racy romance this summer, check out Boys and Toys.
Book Info:

Published July 15th 2014 by Cosmo Red Hot Reads from Harlequin
Every girl has a goody drawer.
Sex toy party hostess Liv Tanaka has a collection. Vibrating purple rabbits, cherry-flavored edible underwear, flavored oils… Hey, wearing a leather corset and stilettos (while selling dildos) pays the bills. Just don't tell her very conservative parents. Because if they discovered Liv's sex-toy-selling "Asian Elvira" alter ego, her parents would disown her.
So far, Liv's doing a bang-up job of keeping her two worlds separate…until Porter Benjamin shows up at her party. Tall and too-tasty-to-resist Porter, who works for her father. Porter, who wants Liv to host a party just for him.
And oh, she's tempted. But getting involved with Porter means mixing those two worlds that Liv desperately needs to keep separate. And now Liv's Naughty Toybox is starting to look a lot like Pandora's box….