In Branded (The Cavanaugh Brothers #1) by Laura Wright, after the death of their father, the three Cavanaugh brothers have returned to the family ranch in River Black, Texas. For a funeral, closure, and to decide what comes next. The good memories of life on the ranch are overshadowed by the dark memories, the ones they don't talk about.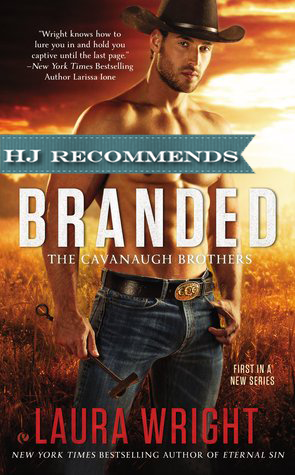 Deacon is the eldest brother and in Deacon's mind, he has nothing but bad memories of his father. He's come back intent on destroying the ranch at any cost, and ridding himself of a past that haunts him. Deacon doesn't expect to fall for the ranch forewoman, Mac, or that she'll slip past his defenses. He definitely does not expect more family secrets to be revealed. As the past and present collide, so do Deacon and Mac…they can't deny what's between them, even if at times they are fighting for different things.
Will Deacon be able to put the past at rest at last, along with his father and move into a future with Mac? Or will his quest for vengeance prove too strong, letting the past destroy his future?
Branded is a great introduction to The Cavanaugh Brothers by Laura. She smoothly introduces us to many characters that are the backbone of Branded and the series without overwhelming the reader. Deacon and Mac are the strength in Branded, and they prove that over and over again throughout. Mac is independent, strong, honest, and truly wants to understand Deacon. She's always had a thing for him that he never knew about, and as adults it's only gotten stronger. Deacon's father was good to her, but there are things she doesn't know. Deacon has so many past hurts your heart will ache for him. He is focused, distant, and has a hard shell to break through. He was not an easy character to get to know, but his character is well written and deep, intriguing you to find out all you can about him. Laura draws out the mystery of his past enough to pull you in further but not frustrate you. Mac is really good for him, just the way she is with him. With her, he starts to see things a bit differently, he starts to remember the good too, not just the bad. But will it be enough?
I loved how Laura portrayed Mac and Deacon, especially the two sides of Deacon – cowboy vs. rich city slicker. I also really like how she brought them together. Besides their past, they are both fighting for something they believe in. Even if it is on different sides, they don't let that stand in the way of their attraction. I really like the maturity of their characters and that they don't play games with each other, but are up front and honest.
Branded has an easy flow and Laura managed to suck me right into the world in River Black, Texas. She expertly concludes Branded, but at the same time, with no cliffhanger, has you eagerly awaiting the next book in this series (which I will definitely be reading!).
I'd recommend Branded to any romance reader who likes character driven romance with a lot of internal conflict…characters who will pull you right into the pages with them.
Book Info:

Published June 3rd 2014 by Signet | (The Cavanaugh Brothers #1)
In the small town of River Black, Texas, sits the Triple C—a working cattle ranch that sustains the town. But it also holds painful memories and shocking secrets for the Cavanaugh brothers…
When the Cavanaugh brothers return home for their father's funeral, they discover unexpected evidence of the old man's surprising double life—a son named Blue, who wants the Triple C Ranch as much as they do. The eldest son, Deacon, a wealthy businessman who couldn't wait to leave the ranch and move on with his life, is looking to use his powerful connections to stop Blue at any cost. He never expected the ranch's forewoman, Mackenzie Byrd, to get in his way.
Mac knows Deacon means to destroy the ranch and therefore destroy her livelihood. But as the two battle for control, their attraction builds. Now Deacon is faced with the choice of a lifetime: Take down the Triple C to feed his need for revenge, or embrace the love of the one person who has broken down every barrier to his heart.