In Brash by  Nicola Marsh Jess Harper is filling in as a Vegas wedding planner for her ailing mother. She is trying to shed her good girl image and embrace the sultriness of the burlesque scene to create a one of a kind wedding. Having recently broken up with her fiance, she is thrilled to find out she will be working closely with Aussie celebrity chef Jack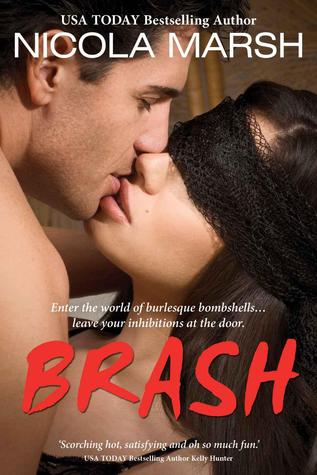 McVeigh. She had a huge crush on him when they met ten years prior in the Australian Outback while she was on vacation with her brother Reid. Jack pushed her away at the time even though they both knew they had a strong mutual attraction. This time she plans to seduce him with the help of some burlesque basics and hopes he'll realize what he missed out on a decade ago.
Jack McVeigh owes his career and decadent lifestyle to Jess's bother Reid and their friend Dorian. Without their business connections and faith in him, he would never have become the success he is today. Because of that friendship, he feels that he must push aside his feelings for Jess. He would never betray her brother's trust in him and certainly doesn't want to hurt her. He doesn't realize how strong his feelings for her still are until he sees her in Vegas at her cousin's burlesque club. They find out that not only will they have to work together on the wedding details which he will be catering, but they are being sent to a private island together to make the final preparations. He resolves himself to keep the relationship strictly professional but is not sure how long he can hold out when Jess reveals her plan to seduce him.
This is a fun, sexy story which is set in two very sultry and intriguing locations. I must admit I loved the burlesque bombshell basics at the beginning of each chapter. What a great way to set up the next scene between Jess and Jack! I think Jess is also a character that is easy to relate to…so many of us feel like we are stuck in a role sometimes and want to cut loose. She was given the perfect opportunity and had the courage to run with it. I find that very admirable and think this story shows us that there is an inner vixen in us all just waiting to find her way out.
Rating:
Book Info:  Publisher: Nicola Marsh (February 11, 2013)
Jess Harper is so tired of being good…
Thrust into the dazzle of Burlesque Bombshells, Vegas's premier dance venue, the small town librarian has no option but to embrace her inner vixen.
Especially when blast from her past, sexy Aussie celebrity chef Jack McVeigh is still determined to keep their relationship strictly hands-off.
This time Jess isn't surrendering without a fight and armed with her hot props and Bombshell moves, Jack doesn't stand a chance.
When Jess and Jack are sequestered on an island to orchestrate the burlesque wedding of the year, sun, surf and sizzling sex are on the menu!
But will the fiery couple come back for seconds?