Brazen by Avery Flynn finds Bianca Sutherland and the rest of the B Squad on a mission to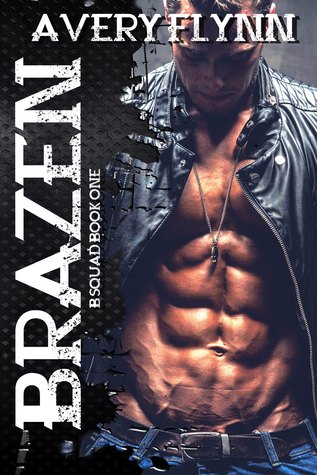 find their missing friend, Gidget. She's been kidnapped and is believed to have been used as a guinea pig for a new dangerous drug called Genie's Wish, which enables the users to be controlled by anyone around them. It becomes clear that Bianca, along with fellow B Squad members Vivi, Lexie, and Elise are targets for the person behind the drug. The only link is that they went to St. B's, a school infamous for their corporeal punishment before it was shut down.
While attempting to figure out who is behind the drug and their link to the school, Bianca's boyfriend and fellow B Squad member Taz Hazard has a surprise show up–his ex-wife, Tamara. The ex-wife that Bianca didn't even know existed, who claims that the pair is still married. Despite the shock and pain at the revelation, Biance and Taz go undercover as a married couple at a resort where anything goes, including public nudity and sex.
While I enjoyed the book overall, I often felt like I was missing the background of Taz and Bianca's relationship. It turns out that even though this is the first book in the series, Taz and Bianca's relationship actually started in the book Bulletproof, which is part of Liliana Hart's MacKenzie Security world. I would highly recommend reading that first. I had not, and it felt like I was missing pieces of the couple.
I was a little disappointed with how things were wrapped up with Gidget and the aftermath of being kidnapped and drugged. It was pretty much summed up in one line which basically said she was dealing with the trauma. Considering the book was mainly focused on the search and rescue effort for her, I would have liked to have seen a little more follow-up on how the situation affected her and how she was dealing with it.
The book is fast paced and action packed, both in and out of the bedroom. Despite the few issues I had with it, I feel it's worth giving it a read.

Book Info:

Publication: June 7, 2016 | Avery Flynn | B Squad #1
Falling in love is the easy part, staying together…now that's the biggest challenge of all.
Everything is finally working out for Bianca Sutherland and Taz Hazard. They're in love and running B-Squad Security and Investigations. They've planned the perfect operation to take down the dangerous drug kingpin who's kidnapped one of Bianca's best friends. Then Taz's wife—who was supposed to be his ex-wife—shows up on the eve of the big rescue mission and threatens to blow up his and Bianca's happily ever after.
The last thing Bianca wants after the revelation that Taz might still be married is to have to spend time with her former live-in boyfriend who never told her he'd ever been married in the first place. But it's too late to change plans. To save her friend, she has to swallow her hurt and go undercover with Taz as a newlywed couple at an exclusive resort. The only thing Taz wants is Bianca and he's willing to do whatever it takes to win her back. But when it's his life on the line, will it be too late for him to show her that his past is over and she's the only woman for his future…