Bride Behind the Billion-Dollar Veil by Clare Connelly is a passionate 'marriage of convenience'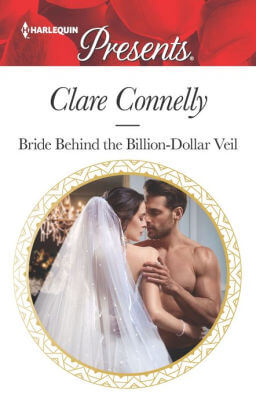 romance for a wealthy businessman and his temp assistant.
Thanos Stathakis hates that he had to give up his grandfather's company Peto in a business deal to Kosta Carinedes and he's determined to get it back. His father Dion, who aligned himself with the mafia, is in jail and Thanos and his brother Leonidas are in charge now and the time has come to reclaim their heritage. The only problem is that he must convince the elderly Mr. Carinedes that he's worthy of being its owner again. To do so, he has to prove that his playboy past is behind him and that he's settling down.
When Alice started working as a temp assistant to Thanos in order to pay medical bills for her infirm mother, she never dreamed that just after she'd finally met him in person he'd propose a marriage of convenience! The money and status he's offering to be his 'wife' will take care of her mother, her debts and give her a look into a life of luxury and indulgence. It's to be a short term contract, long enough to get Thanos his company back and with a generous divorce settlement to ease Alice's financial woes. But the chemistry between them leads to an intimacy and passion neither has experienced before. Will it also lead to a real happy ever after?
I really enjoyed this story! It's a Cinderella theme, with Alice getting a look at lifestyles of the rich and famous when she agrees to marry Thanos. The setting starts in New York where Alice works for Thanos, but then features sailing adventures on Thanos's yacht, a lovely side trip to Italy and a visit to Kosta Carinedes's island paradise. Their wedding night is passionate and sensual, and they easily slip into a sexual relationship.
Thanos is determined to keep emotions out of their relationship, though that becomes harder as time goes by and he gets used to having Alice by his side. Both have had challenges in their upbringing. Alice never knew her father, only that her mother had been seduced and left pregnant so she knows she should guard her heart around Thanos (easier said than done). Thanos was abandoned by his mother at age 8 at his father's house, disrupting that household. The only good thing that happened from that was his deep and abiding friendship with his half brother Leonidas. But it's made him wary of trusting anyone else. When Alice confesses her real feelings for Thanos, he shuts her out, and then must make up for his mistake. They eventually get their happy ending and it is sweet and very satisfying. It's a thoroughly enjoyable read.
Book Info:

Publication: Oct 15, 2019 | Harlequin Presents | Crazy Rich Greek Weddings #2
How to redeem the world's richest playboy?
Marry a Cinderella!
Fantastically wealthy Thanos Stathakis almost has it all. He requires just one last company to complete his empire. But to acquire it, he must counter his scandalous reputation—with a wife! His executive assistant, Alice, is the perfect choice—oh-so-respectable and in need of financial support for her family. He persuades her their vows are purely for show. Until he lifts Alice's veil and their intense, electrifying kiss complicates everything…