Anyone But Cade by Penelope Bloom: Iris is tough yet sweet, feisty, and independent. While she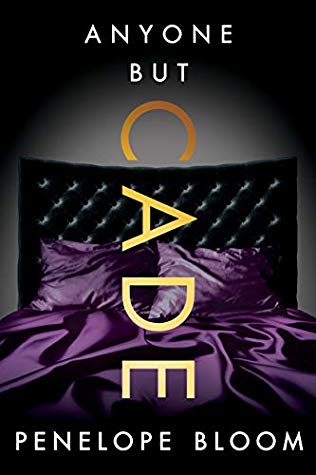 might be interested in a relationship, it's tough to find a man in her small town when she's cop. She loves her job and her town with its quirky town competitions. With her two best friends and her cat Moses, life is pretty good.
Cade is handsome, sexy, charming, and infuriating. He's more recently moved back to their hometown as he and his brothers decided to relocate with their company. While the twins Cade and Rich are difficult to tell apart, their personalities are totally different. Cade always has a joke at the ready to deflect and seems to take nothing seriously.
Cade and Iris were once high school sweethearts. Then Cade blew it up when his thoughtless actions cost Iris the future she was counting on. It's seven years later and Iris is determined to remain true to the pact and stay far, far away from Cade. Of course, Cade being impulse and impetuous finds himself in trouble and Iris has to deal with him.
"Did you just call me a police escort?"
"You caught that, huh? I guess you still know me pretty well, even if you have been avoiding me since I came back."
"Avoiding you? Are you really so cocky that you think I care enough about you to make an effort to stay out of your way? What if I'm avoiding you because I have no reason or interest in talking to you instead?"
Cade's world is thrown upside down with some rather unexpected news. No one is more surprised than Cade when Iris is the one who steps in and helps him out. The attraction is clearly still there, along with Cade's need to push all of her buttons to get a reaction. He tempts her yet she's wary to get too involved. Spending more time together shows Iris that Cade just might be capable of committing to something other than fun.
Iris scrunched her eyebrows together. "Translation?"
"You can sit there and make a list of all the ways this could go wrong, or you can just follow your instinct on what feels right. And if you ask me, this feels pretty damn right." I hadn't realized it, but my hand was on the back of her neck, and I had been running my fingers through her short, silky hair.
Anyone But Cade is an opposites attract, second chance romance with surprises, conflict, heat, and drama along with way. Penelope Bloom did really well in developing Cade from frustrating to genuinely likeable, and maybe loveable, hero. Ms. Bloom introduced a new character in this series of standalones who kind of stole the show. Fans of Jill Sanders and Taylor Holloway will enjoy Anyone But Cade.
Book Info:

Publication: November 12th 2019 | Montlake Romance | Anyone But… #2
The second novel in USA Today bestselling author Penelope Bloom's Anyone But… series turns up the heat and hilarity with a story about second chances and promises worth breaking.
After Cade King cost me everything, I vowed I'd never fall for him again—even if he became rich and megafamous.
Now he's back, and he's still the embodiment of a big, shiny red button. Everybody knows you shouldn't touch red buttons, but it's so, so hard to resist.
I'd be lying if I said I didn't enjoy it a little when I arrested him for disorderly conduct. Unfortunately, I think Cade liked it a little too. So when he asks for my help raising the son he just found out about, I know exactly what to say: "No, you stupidly sexy red button. I won't touch you, even to help a cute little kid." You're damn right that's what I said. Mostly.
Still, Cade doesn't know the first thing about commitment. He lives completely in the moment. I'd need to have a recurring case of amnesia to believe he could change, even for his son. Or me.