Bride Behind the Desert Veil by Abby Green is a stunning sheikh marriage of convenience romance.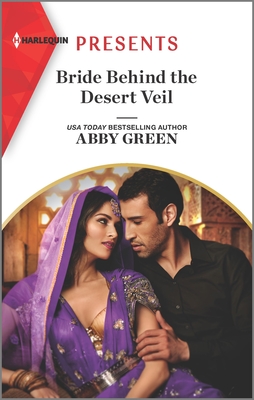 Sheikh Sharif is floored when his wife is revealed to be the unforgettable, mystery woman he met in the desert. Princess Liyah is stunned when she arrives for her arranged marriage to find the man who shattered her in the best ways standing before her at the altar.
Sharif is honouring a diplomatic agreement between his and the neighbouring country. He has no desire to have a proper marriage and envisions it to be in name only. Business is booming now that his brothers have settled down and he plans to use his wife as his side piece and project respectability. He didn't plan for her to cause havoc by getting under his skin. Sharif's doesn't need any distractions from his lifelong motivation to destroy the business his father created bit by bit until there's nothing left.
Abby Green's writing style when a Sheikh is involved is so aesthetic. The desert really comes alive. I felt like I was watching Liyah's peregrine falcon in the sky. From the hot desert sands to quickly switching over to Sharif's cold corporate Manhattan life Liyah wakens Sharif from his lifelong motivation and he starts to see the world clearer with the help of Liyah's innocent observations and genuine appreciation of the little things. Filled with expressive dialogue, vivid descriptions and picturesque landscapes both desert and city, I love Abby's writing.
The Marchetti Dynasty trilogy is brought to its conclusion with Sharif and Liyah's story. Maggie, Nikos, Zoe and Mak's are well mentioned and the women welcome Liyah into the fold. I really enjoyed this arranged marriage story, both Sharif and Liyah were likeable and I liked Liyah's growth and how she aroused Sharif from his lifelong drive for revenge. Highly recommended and enjoyed.
Book Info:

Publication: April 2021 | Harlequin Presents | The Marchetti Dynasty #3
This sheikh is in for a surprise when he meets his new bride, in this marriage of convenience romance by USA TODAY bestselling author Abby Green.
The stranger at the altar…
Is the woman he was meant to forget!
Sharif Marchetti is deliberate. Controlled. Especially in his strategic choice of a royal bride. So after surrendering to his instincts with a mystery woman, he must erase their desert encounter from his memory. Until they meet a second time…moments before they exchange wedding vows!
Princess Aaliyah Mansour is stunned that her arranged marriage is with the man who'd stirred her soul. She was prepared for a union that left her independence and defences intact. Not a jet-set lifestyle with a husband who's the ultimate distraction…
From Harlequin Presents: Escape to exotic locations where passion knows no bounds.
Read all The Marchetti Dynasty books:
Book 1: The Maid's Best Kept Secret
Book 2: The Innocent Behind the Scandal
Book 3: Bride Behind the Desert Veil