The Bridesmaid's Best Man by Susanna Carr: Personal trainer Angie Lawson is a reluctant bridesmaid to Bridezilla, Brittany. Patrick, Angie's best friend since kindergarten, is the groom and he really wants Angie to be a part of his special day. In addition, Angie's ex-boyfriend Cole Foster, a former police offer turned private investigator, is working undercover on a case that involves Heidi, the maid of honor and he needs Angie to help him figure out if someone is gunning for her or if she is still abusing drugs and alcohol.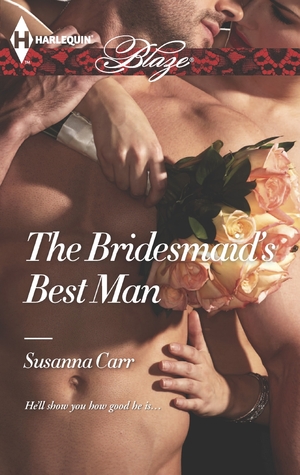 Posing as a stripper during Brittany's bachelorette party, Cole is some-what able to keep an eye on the festivities, while gyrating at the same time. Heidi gets hurt, which causes the bride to go a little stir crazy. Cheryl, Brittany's assistant, is always around to calm Brittany down and ensure all the wedding arrangements are moving along as planned. Luckily Heidi is okay and clean, but her injury prevents her from being in the wedding.
Cole broke-up with Angie about a year ago because he felt he was not good enough for her, while Angie thought the break-up was due to her perceived lack of femininity and aggressiveness in the bedroom. Demons from Cole's childhood prevent him from believing that anyone could ever love him, so he distances himself from any kind of serious commitment. Angie's tomboyish appearance and chosen profession have always caused some teasing and ribbing, and as a result, she is terribly insecure about her appearance. Both Angie and Cole never got over each other and when they see each again at Brittany's bachelorette party, the chemistry between them remains hot and electric.
The investigation widens, after another innocent person from the bridal party ends up in the hospital because of a food allergy. After some suspense, twists and turns, the mystery is solved.
I am Susanna Carr fan and some of her other books that I've read I have truly enjoyed, however, this one is not on the top of my list. I found it difficult to get through the first half of the story. The characters lacked depth and substance. The way Cole went around trying to find out if Heidi was still abusing drugs and alcohol seemed repetitive and sloppy. As much as I wanted to like Patrick (I wish he was given a last name), I could not. He is depicted as a nice man, so his choice of a spoiled, bitchy wife is ironic. Patrick is a coward, hiding behind his soon to be wife, while his friend and supporter of over twenty years is struggling, while being banned from the wedding.
The second half of the book is good and well-written. There is plenty of action, steam and plot. The dullness from the first half springs to life in the second half with an eventful ending and subsequent epilogue which ties everything up into a nice package.
Book Info:

Expected publication: September 17th 2013 by Harlequin
Every bachelorette party has a surprise…
Angie Lawson is in Bridesmaid Hell–if Hell was a strip club filled with screaming women in stilettos. But her night's about to get a whole lot worse. Now her ex-boyfriend is standing right in front of her–every sexy, delicious inch of him–and Cole Foster isn't the kind of guy that any woman can just ignore….
Cole's working undercover, but he certainly wasn't expecting the intimate reminder of the wicked heat that he and Angie always shared. But when the maid of honor–silver stilettos and all–is knocked unconscious, Cole realizes he needs Angie's help to get into the bridal party. And if getting there means getting her in bed, too, then he's definitely the best man for the job!(less)