In Bull (Red, Hot & Blue #10) by Cat Johnson, two people are forced together because of a life and death situation. Luckily for both of them, their experience results in a promising happily ever after.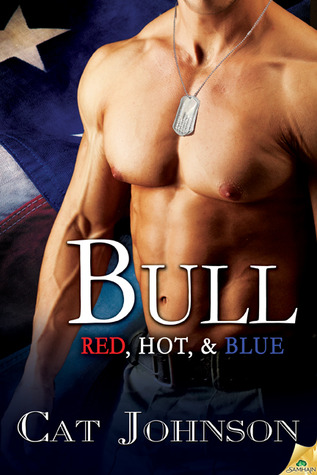 Special Operative Bull Ford is involved with many dangerous military missions, in addition to being a bomb diffusing expert. The team he works with is very close and they are like his second family. Bull is a tall, good-looking hunk of a man that most women find extremely attractive.
Professional harpist Marly Spencer is a petite young woman with a lot of spunk. She is able to cart her massive harp from event to event without even a flinch. She recently broke up with her boyfriend John, the Senator's son, because he constantly cheated on her.
Marly is nervous about tonight's performance because it is a political event and John will be in attendance. He is having a difficult time accepting his "dumped" status, and plans on discussing it once again sometime during the evening. Marly is tired of dealing with him and his excuses. Bull is attending the event as well in a professional capacity, providing security to the Senator because of a terrorist threat. When the threat becomes real, Bull finds Marly in a storage closet. Believing that they may not live to see tomorrow, they have a mind-blowing quickie.
Bull is a must read if you looking for a hot, fast-paced novella. It has a little bit of everything…romance, suspense, action and heat. Not only are Marly and Bull well defined, but the secondary characters are fun and full of personality. If you don't have a lot of time to spare and need a little pick-me-up, Bull is for you.
Book Info:

Publication: October 29th 2013 by Samhain Publishing | (Red, Hot & Blue #10)
Spec Op "Bull" Ford is as big as his nickname. His team, the civilians he protects, whether they know it or not, all depend on him. But beneath his stony exterior beats the heart of a caring man-unless he's crossed.
Between her job as professional harpist and fending off an ex-boyfriend who won't take the hint, Marly feels like a circus juggler. She doesn't need some oversized, overzealous security guard accusing her of being a terrorist-as if a five-foot-nothing woman in a ball gown could threaten anyone.
Though when the real terrorists strike, she's more than grateful to have Bull at her side…or on top, which certainly makes what could be her last breaths memorable.
But after Bull takes the brunt of the explosion, Marly is left with feelings for a man who doesn't remember who she is. And by the time the red-hot memories come flooding back, the trail to her heart may have gone cold.