In Yuletide Baby Surprise by Catherine Mann, Princess and doctor Mariama Mandara (Mari) is trying to escape from the photo press. She has never being comfortable around the press and prefers to remain behind the closed doors of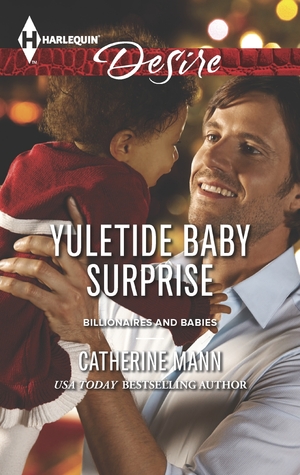 her research lab. To escape from the unwanted press at her medical conference, she disguises herself as the house keeping staff and takes the nearest abandoned food cart to the room number written on the food cart slip. She does not realize that the room she takes the cart to belongs to her professional adversry-Dr Rowan Boothe.
Rowan Boothe has always being attracted towards Mari and now he finds her in his suite with a food cart which also carries an abandoned baby. Now they both have to forget their professional rivalry and personal issues to take care of the abandoned baby but with Christmas along the corner, can the festive atmosphere and the baby make them forge a stronger bond..??
Yuletide Baby Surprise is a wonderfully written holiday romance. Mari was a nerdy doctor who is constantly at horns with Rowan at professional level. Rowan was a doctor with a generous heart with a genuine nature to help others through his charities. He has a unfortunate past, which makes him insecure in his relationship with Mari. Their professional rivalry helped to make their personal lives more spicier and I just loved how the baby helped them to get closer.
My only issue with this story is that I found the pace of the story was too fast and the romance was going too fast for me at times.
Overall Yuletide Baby Surprise by Catherine Mann is a wonderfully written fast paced holiday romance.If you are a fan of the author's previous works and like holiday themed romances,then this is the book for you.
Book Info:

Publication: October 1st 2013 by Harlequin Desire (Book 2257)
In this Billionaires & Babies novel, USA TODAY bestselling author Catherine Mann gives new meaning to the words "Merry Christmas, Baby"
'Tis the season to be jolly? It isn't for Dr. Rowan Boothe when a princess on the run from the photo-hungry press invades his hotel room. He and Mariama Mandara had their professional clashes in the past, and Rowan has no desire to become involved in her latest predicament–until they discover an abandoned baby. Now he needs Mari's help and soon discovers she's no pampered royal but a desirable woman. Yet how long can their Christmas escape really last?