In Buns (Hudson Valley #3) by Alice Clayton, Packed to the gills with work and training for upcoming marathons and triathlons, Clara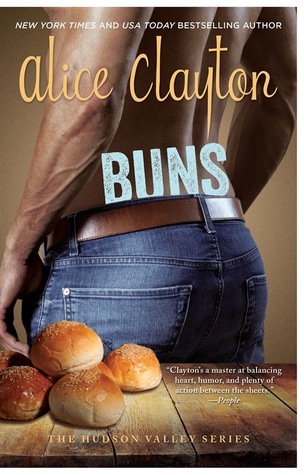 Morgan's life couldn't be busier. And that's the way she likes it. Because too much idle time leads to unwanted memories of a life in the foster care system and of the loneliness that still plagues her to this day. So getting wind of a possible job promotion puts an extra spring in Clara's step as she makes her way up to the Hudson River Valley to work on her latest hotel rebranding project. But getting Bryant Mountain House out of last century and into the new millennia–and turning a profit–may be quite a challenge if the cold reception she receives upon arrival is anything to gauge it by.
'Never. Get. Involved. That was a rule that was as firm as the buns this guy likely had under those perfectly ironed chinos.'
Clara is knocked out over the beauty of Bailey Falls, New York, and can see why her best friends Roxie and Natalie have fallen in love with the area. And the men. Because, whew boy, do they have some mighty fine looking guys. Including her boss (well, her boss's son) Archie Bryant. Clara and the bespectacled hottie don't get off to the most auspicious of starts and the animosity continues the more she tries to push Archie and his crew to make changes in the family resort. But with the insane chemistry between her and her boss, new career woes, and the past creeping up on both her and Archie, Clara is emotionally over her head and not sure where to turn. For once, the woman who has only ever relied on herself may just have to learn that it's okay to let someone else in. Especially if it's someone she loves.
'My love for Clara was work, but the very best kind. We challenged each other, we fought hard, but we loved harder. And the payoff? Christ, she was worth everything.'
Crazy sexy, full of silly fun and innuendos, Buns was the latest in a long line of unputdownable books by Alice Clayton. Boss/employee romance has never been so delightful or sincere as it was between our hero and heroine, proving that this author can add enough depth to the emotions and characters' backgrounds to create a truly well-rounded story.
"But in the end, there were a hundred reasons to run like hell today, and only one reason to stay. And you're the reason, Archie." He closed his eyes, and smiled.
I've said it before and I'm sure I'll say it again, there's just something about Alice Clayton's writing that works for me every time I pick up one of her books. The humor, the characters, the storylines, and dialogue. It works perfectly and keeps me engaged from start to finish. And this time with the somewhat antagonistic relationship between hotel owner Archie and rebranding expert Clara, the conversations were like a mile a minute comedy routine and the attraction mind-boggling. They were an explosive pairing of personalities and I found myself wondering more than once what hilarious thing would happen next and ultimately how Clara and Archie would work out their differences. (Don't worry…they *definitely* got their HEA!)
Amidst all of the flirting and entertaining bickering, there was a bit of a more serious side to our couple that showed itself here and there. Both Archie and Clara had been through their own tough times in the past, some of it more recent for Archie. And I think in addition to them having a lot in common already–they were smart, workaholics who loved the outdoors–seeing how they were both struggling with something had the ability to draw them together. But in Clara's case, it also had her freaking out and pushing Archie away for a good chunk of the story. I found that to be an honest reaction so even though I think some readers will get frustrated with Clara over it for a while, I felt like she was being as open emotionally as she could at the time. And I loved how Archie handled it. He was a terrific guy and made for a wonderful book boyfriend. We don't necessarily see a lot of geek-chic guys in romance who encompass a studious side as well as an athletic all-American male persona. But boy did it work for Archie. *dreamy sigh*
From their meet-cute beginning to their fireworks-filled HEA, Clara and Archie, aka Bossy and Hotel Boy, charmed their way into my heart and I'm sure will do the same for other readers. And if you're a fan of Clayton's other books, be on the lookout for the Hudson Valley to get even hotter with characters from her Cocktail series AND her Redhead series making cameos here.

Book Info:

Publication: Expected publication: May 23rd 2017 | Gallery Books | Hudson Valley #3
Clara Morgan is living the dream, if you can call rebranding hotels that are desperate for a new life and running any kind of marathon a dream. Which she does. But the career she loves and the endurance races that keep her adrenaline pumping have kept her too busy to put down any roots. Growing up in foster care, she's never been able to establish traditions of her own, which may be why she's fascinated by the rituals that generations-old family resorts are known for. She's especially interested in the Bryant Mountain House, and not just for their secret recipe for the yummy, gooey, can't-get-enough-of Hot Cross Buns….
Archie Bryant, the man with the Buns, is fifth generation and one-day-owner of the charming yet run-down Bryant Mountain House in Bailey Falls, New York. He's determined to save his family's legacy from the wrecking ball the old-fashioned way—by gritting his teeth and doing what needs to be done. There's no way Archie will be influenced by the new hotel branding expert his father brought in to turn one hundred and fifty years of tradition on its head just to attract a faster, younger, slicker crowd. But when some of Clara's ideas start bringing in new, paying customers, Archie can't deny that she may have just given him a shot at keeping his resort open.
It's sticky, it's messy, it's sweet, it's Buns.