Burn For Me (Phoenix Fire #1) by Cynthia Eden: The passion burns hotter than the life-giving flames of the phoenix.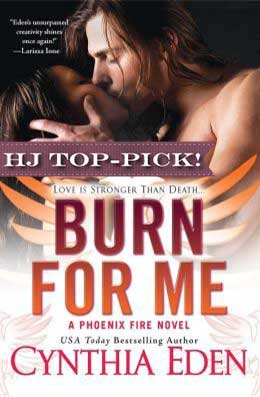 Undercover reporter, Eve Bradley, is determined to expose the truth about the Genesis group. Shortly after infiltrating the research facility she meets Subject Thirteen, Cain O'Connor. After witnessing the malicious acts committed by the head of the Genesis group, Dr. Richard Wyatt, Eve's desire to reveal the cruelties is accelerated.
I was swept into the story immediately.
"You smell like fucking candy…"
She stilled. Now her heartbeat was the one racing too fast.
"You make me…" His voice dropped, but she caught the ragged growl of "hungry."
Just like a phoenix obtains new life by arising from the ashes of its predecessor, each story arc brings a new intense component to the overall tale. In true Cynthia Eden writing style, the danger grows exponentially throughout the entire story. Be sure to clear your schedule – this is a stay-up-all night read.
Book Info:

January 28th 2014 by Brava
Eve Bradley was undercover looking for a story, not a cause. But something about the man they called Subject Thirteen got her involved. The scientists said he was a devil, and they had a decent case: Terrifying power. A bad attitude. And looks that could lead anyone to sin. . .
Cain O'Connor knows the minute he catches her candy scent that Eve could drive him wild. But she's a threat–in a way no one has been for him in years. She's safer away from him, too. But with a powerful conspiracy determined to shut Eve up for good, there's no time to argue. All they can do is trust their instincts–and their hearts. . .