An Exquisite Challenge by Jennifer Hayward: Alexandra Anderson has just lost a multi-million dollar contract in a hostile takeover when she's told Gabe De Campo, needs a new PR company to launch his new wine in only three weeks' time. Alex knows she's the only one in the industry he can call to pull off a launch of this size in such a short amount of time, and she needs the business for her fledgling company. Convincing Gabe that they can help each other is the easy part; working with the controlling wine magnate is the difficult part, particularly when they generate enough sexual tension to power New York City and Naples, California.
"Her combative relationship with Gabe was inconsequential when a two-million dollar contract was on the line. When her future was on the line."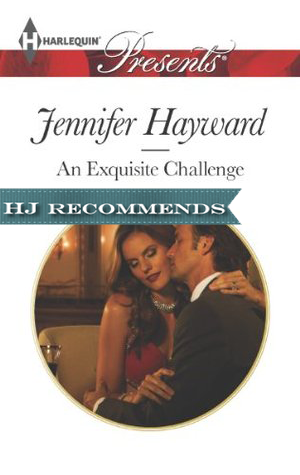 Gabe De Campo has been fighting with Alex for year years. He knows their combustible relationship is based more on mutual attraction than mutual angst, and that the long hours spent working together are going to bring that attraction to its inevitable conclusion. Alex may be determined to fight the attraction, but he isn't one to back down from a challenge.
When a rival wine magnate tries to steal Gabe's thunder and a piece of desperately needed market share, and Alex's ex turns up to complicate things, what seems inevitable suddenly seems much more complicated. Can Alex and Gabe pull of the launch event of their careers and find the love of their lives at the same time?
An Exquisite Challenge is the second book by Jennifer Hayward focused on the De Campo brothers, and this book delivers just as much passion and angst as The Divorce Party. Alexandra Anderson is a headstrong woman who has pulled herself up by her bootstraps. She's experienced some hard knocks and been taught some tough lessons along the way. She isn't the type to be knuckled under by anyone. That's what makes her such a strong match for Gabriele De Campo. Gabriele is just as driven as Alex, but unlike her, he isn't the head of the company, a fact he is still a little bitter about. These two share issues with trust and control that make the reader wonder how they'll ever get it right.
Ms. Hayward's language flows off the page, peeling back the layers of her characters with a surgeon's precision:
"'You are every man's fantasy, Alexandra Anderson.' Her chest tightened with an emotion she didn't want to identify. 'Fantasies aren't reality.' 'This one is,' he murmured softly, teasing the corner of her mouth with his lips. 'No place to hide here, Lex. Only the truth.' No need to tell him she never told anyone the complete truth. Not about herself."
The one thing I didn't like about the book is how the external conflict with the rival wine magnate was resolved. It's hard to say more without giving it away, but it felt a little too convenient that the other wine guy was that careless with her subterfuge. Everything leading up to that point was so spot on that this stuck in my craw a bit. But I supposed every moment can't be high drama or a complicated twist.
I would recommend An Exquisite Challenge to any reader looking for a heroine whose equal parts grit and vulnerability, a hero whose controlling nature hides his own distrust and insecurities, passion that sets the pages ablaze, and a healthy dose of rivalry–both of the sibling and the business variety.
Book Info:

Published January 21st 2014 by Harlequin Presents (Book 3216) | The Delicious De Camp
"First move's yours, Lex," he murmured. "After that, all bets are off."
Wine magnate Gabe De Campo has fired his PR company three weeks before the most anticipated launch event the industry's ever seen. Enter Alexandra Anderson–the last woman he should ever work with, but the only woman who can help.
Gabe and Alex have always been a lethal combination, and with so much at stake for them both, failure is not an option. Can they ignore the powerful attraction between them in order to maintain their professionalism…or is it only a matter of time before the cork is popped on their passion?