In Butterface (The Hartigans #1) by Avery Flynn, being classed as a 'Butterface' is something Gina Luca is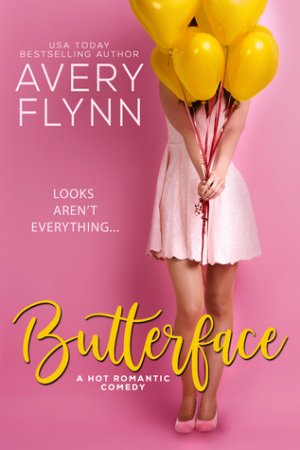 used to having lived through the cruelty of her peers in High School. To the boys, she had a gorgeous body, but would never have the gorgeous face to go along with it. Still, she's learnt to deal with the horribleness of people until she's all but forced to kiss Ford Hartigan on a wedding Kiss Cam causing painful memories of her past to surface. Luckily, the kiss is magical since there's no chance they have a future together. Yet, when life continues to throw the pair together, Gina finds herself doing the one thing she shouldn't in falling for Ford. Will Ford be able to convince Gina that she's the one for him or will he end up hurting her worse than anyone ever has in the past?
"Oh man," Ford groaned. "You can see their tongues. I should never have to see Partridge's tongue. That's gotta be a violation of something."
Gina smiled up at him, calling his bluff. "You don't use your tongue when you kiss?"
"On a Kiss Cam?" His eyes went wide but couldn't seem to stop watching the horror unfold on the big screen. "Hell no."
Something about his hot and uptight vibe to her. "Have you been on many Kiss Cams?"
The moment I learnt what the term 'Butterface' meant, I had a feeling this story was going to take me on an emotional rollercoaster due to the heroine's back story and everything she goes through on her journey to happy ever after, and yet, I was pleasantly surprised in that I laughed more than I cried. Really, this story was absolutely enthralling, fast-paced and a story that was unputdownable, as the heroine has learnt to deal with the horribleness of people the best she can. However, it was from the moment the hero and heroine come face-to-face for the first time in this story where this story drew me in completely, as Ford is a good guy and determined to show Gina that he's different, even if he does have ulterior motives. Will Ford be able to win Gina over?
"Do not disrespect the Kiss Cam, Hartigan!" someone bellowed out as the chanting crowd grew more restless. And louder.
"One quick kiss," he said, his tone grim with a thread of something more vulnerable underneath. "Then, they'll leave us alone."
As for the dialogue, it was highly entertaining and had me loving the growing relationship between Ford and Gina and the tough obstacles they face to be together. Including the pressure the hero is facing because of his job; and, whether the heroine will realize that she deserves happy ever after as much as anyone and that she shouldn't let anything stand in her way. Moreover, the hero and heroine were memorable characters and I loved the close family ties they have, as the heroine's brothers are protective of her because of what she's been through in her past while the hero's siblings aren't afraid to offer their advice in order to see that Ford makes the right decision when it comes to Gina.
With the heroine, she's resilient, courageous, independent, stubborn and I liked the challenge she provides the hero because there's no way she's going to make things easy for him. I also liked the close friendships she shares with her two best friends because they would go to great lengths to help her through tough times, especially the moment the hero and heroine's relationship goes awry. Certainly, their ways of keeping the heroine distracted were fun and completely helpful while they also had interesting plans for Ford. If only Gina gave the word.
While Ford, he's confident, hard-working and I liked how protective he was of Gina, which is proven by how he's not willing to let anyone get away with saying a bad word about her. I also liked how he was willing to help the heroine with whatever she needed him for and that he would do anything to prove he wasn't going anywhere. Really, he doesn't scare easily. Yet, what I liked most of all about the hero was his determination to win the heroine over, even though there are moments when I wanted to slap him for Gina. Hasn't she been hurt enough?
Eventually Ford pulled back, his big hands cupping her face. "You don't happen to know any good wedding planners, do you?"
"I might." What a smart-a** this man she loved was. And then before she could formulate a thought, he kissed her again.
Overall, Ms. Flynn has delivered a marvellous read in this book where the chemistry between Ford and Gina was tangible and convincing; the romance was full of exquisite heat and passion, as Ford shows Gina how much he wants her; the secondary characters entertained me as much as the main ones, especially the hero's family as they're a fun and crazy bunch; and the ending had me loving the hero's efforts to make things right with the heroine after what happens to cause their relationship to go awry. Certainly, his declaration of love was brilliant and had me smiling long after I finished this story. However, it was the epilogue that wrapped this story up nicely, as Gina and Ford have come so far in their relationship.
Butterface by Avery Flynn will appeal to readers that love romantic comedy, the ugly duckling trope, the opposites attract trope or books by authors Tara Sivec, Kendall Ryan, Emma Hart and Jana Aston. However, I would recommend this story to all romance readers, especially since it proves that looks aren't everything and that love, family and happiness can be for everyone no matter how much one believes otherwise. You've just got to be willing to fight for the chance!
Book Info:

Publication: July 30th, 2018 | Entangled Publishing | The Hartigans #1
It's true. I'm not what most people would call "pretty" and, well, high school was rough. Fast forward ten years and life is good…
Until a bunch of jerks think it's hilarious to put the "butterface" (AKA me) on a wedding Kiss Cam with the hottest guy ever—and that old humiliation hits hard.
I recognize him immediately. The sexiest cop in Waterbury and totally out of my league.
But then he kisses me.
And we totally forget the room, the crowd, everything.
Then he tells everyone we've been dating for months.
Soon everything starts to feel too real, from adorable fights over "necessary" tools to fix my broken porch to surviving a free-for-all dinner with his six siblings to picking up where our last kiss left off.
But there's something he's not telling me about why he's really hanging around, and I'm pretty sure it has to do with my mob-connected brothers.
Because this is not a make-over story, and Cinderella is only a fairy tale…