Can't Stop Loving You by Miranda Liasson is a spinoff book from her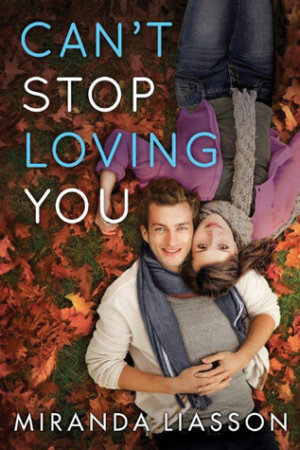 Mirror Lake series, this one focusing on the Spikonos brothers who had been separated in the foster care system. This book is about Roman Spikonos whose brother, Lukas, was featured in This Loving Feeling, the third book in the Mirror Lake series.
Roman had grown up in Mirror Lake, raised by his foster mother. While in high school, the love of his life, Arabella D'Angelo, winds up pregnant. Roman comes up with a plan for them to be together, only to be pushed away by Bella when she loses the child. He joins the Army and leaves Mirror Lake behind, but now he's back in town to turn his family's apple orchard into a distillery. Bella has never forgotten Roman, or the reason she had to push him away. Now that he's back in town to stay while she's on the verge of leaving, Bella needs to decide if she can put aside what others want her to do and find the courage to follow her heart.
I really enjoyed this book. Bella and Roman had been through so much together, had lost so much together, that you can't help but root for them to finally find their happy ending. As much as both of them still harbored hurt feelings over what happened twelve years earlier, they never lost the love they felt for each other, either.
My only issue with the story was Bella and her constant need to please her father. I could understand it when she was still in high school but now, at almost thirty years old and being a psychologist, she should be able to recognize the fact that she needs to make decisions based on her wants and needs, not her father's. Vito doesn't care for Roman, which often leaves her stuck between wanting to be with Roman and having to hide how she actually feels. It puts Roman in an awkward position, which really wasn't fair to him.
Can't Stop Loving You is a wonderful story about getting a second chance at love. The characters are well written while the storyline is engaging and believable. If you enjoyed the Mirror Lake series, you'll enjoy this one as well. I definitely recommend it for anyone who enjoys a good second chance romance.
Book Info:

Publication: December 6, 2016 | Montlake Romance |
When it comes to her heart, Arabella D'Angelo has moved on—even though she still lives in Mirror Lake, Connecticut, a little tourist town with a long memory for mistakes. Ever the dutiful daughter of a cantankerous widower who holds grudges, Bella has spent the past twelve years raising her younger brother and making a name for herself as a successful psychologist. Now, when she isn't counseling a lonely-hearts club for senior women, she's humoring her matchmaking girlfriends. Bella resists the romancing of their blind dates, yet her friends hope she'll fall for a local and scrap plans for a fresh start in Chicago.
Then, just before Bella's thirtieth birthday, her first love, Roman Spikonos, returns to Mirror Lake. When he moves next door to her family's garden-center business to run his grandparents' orchard, it stirs up gossip—and a tempest of passions—just in time for pumpkin harvest. As Roman and Bella once again get caught up in a swirl of desire and heartache, not to mention her overprotective father's fury, Mirror Lake will soon find out whether the Italian hometown beauty and her unforgettable Greek god can stand a second chance.