Captivate Me by Kira Sinclair: I know this may sound kind of bizarre, but does anyone remember the 1999 movie Eyes Wide Shut staring Nicole Kidman and Tom Cruise? This story pulled me in the same way the movie did, with eroticism, explicit voyeurism and betrayal. This book is set during Mardi Gras, which is a scorcher unto itself.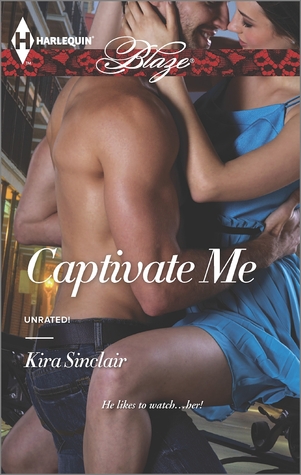 Alyssa Vaughn lost her mother at a very young age. Her father got remarried to a manipulative shrew, who slowly but surely turned Alyssa's father against her. Growing up without love and support hardened Alyssa and as soon as she was able to support herself, she left the clutches of her old homestead. Now she is a smart and sexy software developer, a few months away from unveiling a product that will put her and her company on the road to success. However, due to a bad but necessary business decision from the past, her company is on the verge of a takeover, unless she can satisfy the loan.
Smart and charming Beckett Kane is a self-made success story. His wealthy but hateful dear old dad, kicked him out of the house when he was only eighteen. Beckett worked very hard to own his first boutique type nightclub at a very young age, and now he has expanded into many of the major cities. He wants to transform his nightclubs into the social networking realm, but in order to do so, he needs the app that Alyssa's company has designed.
Alyssa and Beckett have a fleeting history, which Beckett has no recollection of. Alyssa's obstinance to do business with Beckett has proved futile for both personal and professional reasons. And as a result, Beckett is now the keeper of the loan and he is calling it in.
Unbeknownst to Alyssa, Beckett is her secret admirer. The outlandish costumes and masks of Mardi Gras, enable Alyssa and Beckett to lust after each other both publicly and privately. Beckett is aware of Alyssa's identity without a disguise and has some fun with her, but together they explore voyeurism and eroticism as strangers who are in lust. Once Beckett's identity is discovered, Alyssa is beyond rational.
Together, Alyssa and Beckett are both hotter then hell. Ms. Sinclair creates amazing sex scenes that will cause your imagination to run wild. At the beginning of the story I felt like a voyeur, in a dreamlike state, intruding on Alyssa's and Beckett's hot, sexual encounters. The plot is good and interesting, however, I would have liked a little more back-story. Overall, a hot read with main characters that belong together.
Book Info:


Publication: February 18th 2014 by Harlequin Blaze Series #787
Your Exclusive Invitation…
Join us for the most sinful & decadent event of Mardi Gras—the Bacchanalia Ball. Entrez…
Tonight, a masked man escapes the revelry and glimpses a breathtaking woman undressing in the window below. A naughty show—for him. Desire sparks between them…until the blinds come down.
Software developer Alyssa Vaughn has reason to hate damnably hot nightclub owner Beckett Kayne. Mostly because he's trying to put her out of business. But Beckett has a secret he's keeping from her. By day they're rivals. By night, he dons a mask and brings her most wicked fantasies to life. Until the Bacchanalia Ball, when Alyssa puts on her own mask…and his comes off!