Where There is Will by Monica Epstein Michelle Loeser heads to London for a job opportunity and a fresh start after her divorce. She isn't interested in finding love, only in finding herself after a nasty divorce. Using her ex-husband's Diamond Club membership for anupgrade to first class lands the 44 year old divorcée in a seat next to 25 year old film star William Sheridan. Will strikes up a conversation with Michelle about their tastes in music, and they spend the rest of the plane ride from New York to London talking like old friends:
"'If I'm going to share my music with you, I might as well share my name too. I'm Michelle.'
'Call me Will and start showing me your stuff–' His cheeks turned pale pink. "Uh-music.'"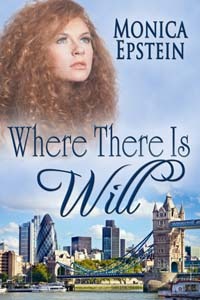 Michelle and Will's unlikely friendship is extended when Will offers to help Michelle learn British terms for her job and show her around London in exchange for Michelle teaching him how to cook. The two grow close, but Michelle isn't sure how close they are growing. She doesn't think it's possible the much younger and very attractive Will would be interested in a dowdy older woman like her romantically. She must be reading the signs wrong.
"Was I honestly thinking that a handsome prince like Will was going to kiss an old frog like me?"
When Michelle and Will finally give in to their feelings, there's much more to deal with than their age difference. His mother's disapproval, media scrutiny, Michelle's insecurities, and Will's career are also conspiring to block their happily ever after. Will the old saying prove true? Where there's a Will, is there a way these two can have the love they both desire?
Where There is Will by Monica Epstein was a funny read driven by a relatable heroine I couldn't help but root for. Michelle is a wonderful combination of brave and cautious with a hint of pluck that makes you want to pat her on the back and shake her by the shoulders alternately. I felt that the character of Michelle was very well done, a must since the story is told in the first person. Will is a good foil for Michelle. He has much less inhibition and pushes Michelle to overcome her fears and go after her dreams. He doesn't care what others think as long as he feels he's making the right decisions for himself. Michelle and Will's relationship is fun and warm and it's a pleasure to watch it unfold.
Even though the first person narration really allows the reader to get to know Michelle, it does have its drawbacks. The reader has to rely on Michelle's interpretation of events unless another character interjects in the form of dialogue. The reader doesn't get to know Will as well as they might like to, nor do they get as much of an inside look into his insecurities and motivations. Ms. Epstein deals with some very weighty issues in their relationship–cultural differences, religious differences, socioeconomic differences, status–and the reader doesn't always get to see things from both sides. Don't get me wrong; I felt that Ms. Epstein did a great job of using dialogue to convey Will's position on things, but what people say and do, and how someone else interprets what they say and do, doesn't always line up with what they are really thinking and feeling. Maybe I'm just spoiled by the trend of showing both the hero and heroine's point of view throughout the story, but there were moments I wanted to know what was going on behind those big blue eyes of Will's, and not just what Michelle thought. And, speaking from experience, being inside a woman's head all the time can be very exhausting.
Overall, I liked Where There is Will. Michelle is a fun, relatable character, flaws and all, and Will was perfect for her, even with the age difference. I wanted to see these two together. Their dialogue was fun and their affection for each other genuine. I would recommend this book to anyone looking for a young man, older woman romance with more to be overcome than an age gap, full of witty dialogue and caring friends who both help and hinder the romance in equal measure.
Book Info:

Published December 26th 2013 by The Wild Rose Press
When she moves to London following her divorce, Michelle Loeser has no interest in looking for love. She needs to focus on surviving without her ex's six-figure income, coping with a severe fear of heights, and rebuilding her confidence. And if she keeps her promise to her best friend, she'll pursue her passion for writing too.
Will Sheridan found his passion early in life. At age eleven, he was cast in the starring role in a film series. Now, at the age of 25, he's a celebrity at a crossroads in his career. He has no time for women who don't understand his priorities.
When Will offers to help Michelle acclimate to the unfamiliar city in exchange for cooking lessons, she figures what's the harm? But jealous fans and coworkers, eager paparazzi, and a distrustful mother see it differently.