Captivated by Her Parisian Billionaire by Andrea Bolter: We all carry our own burdens and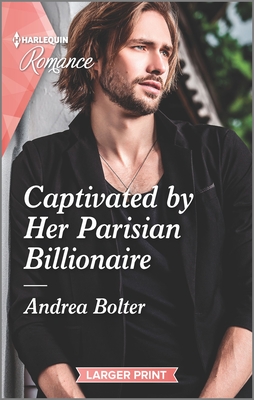 sometimes they reach into the worlds of our relationships even when we don't want them to. Sometimes they protect and sometimes they keep us hidden.
Zoe Gaiman didn't want to go home again. She wanted to reach her dreams. She wanted to touch the stars and live the life she had always imagined in Paris. The problem was finding work in Paris wasn't quite what she had pictured it to be, so when an interview opportunity came up she was going to take it no matter what.
Jules Durand was tired. He was busy running a company and becoming more and more successful and yet he was a parent… to his own parents. How was this even possible. He wasn't old enough for this, but the good Lord knows he was older than they were. So he was going to get an apartment done for them and park them there so he could get a better hand on them.
After a less than stellar interview with something that just seemed to pull them together even in opposition Zoe and Jules left things in a not great place. Neither could deny the pull, that string that just kept trying to get them together. What happens when they are forced in close proximity? Will they help with each others burdens or will they end up trying to carry their own plus?
Ms. Bolter has given her readers an interesting story with this one. It's a very tame novel and the plot doesn't do a lot of twisting and turning. In many ways the one thing that carries the story is only Ms. Bolter's ability to keep her characters alive in the readers mind. For that she really should be commended. This book is a very tame story compared to what Ms. Bolter is capable of.
Book Info:

Publication: Published June 2nd 2020 | harlequin Romance |
Paris already has Cinderella's heart…
Can the billionaire steal it?
Interior designer Zoe wouldn't put her heart on the line for anything like she would for Paris! Practically penniless, her only chance of staying is convincing buttoned-up billionaire Jules to hire her. But how can she work with a man who finds her joie de vivre so infuriating? Until one uncharacteristically impulsive kiss later Zoe realizes Jules isn't as immune to her charm as he'd have her believe…