Cowboy Strong by Carolyn Brown is the seventh book in her Longhorn Canyon series. Carolyn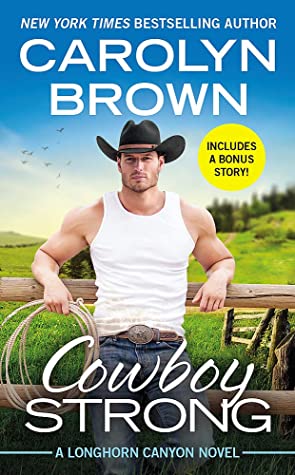 Brown just can't write a bad cowboy story.
Alana Joy Carey remembers when, at the age of thirteen, she left the fall ranch sale and dinner to take a break behind the barn. She remembers all too well neighbor Paxton Callahan walking up to her behind the barn and kissing her. What a surprise! Then Pax was surprised when she slapped his face. He was lucky she hadn't punched him a good one. After she thought about what happened she felt bad and decided to apologize. The next day she saw Pax kissing another girl. What a jerk! Now she has added other memories of Pax to her thoughts. The Pax who took her home after Prom so she didn't have to go to the after-party with her date. The Pax who never hesitated to help her Daddy on the Bar C Ranch when he needed help.
Now faced with her Daddy's devastating news that he has inoperable brain cancer and only has six weeks to live and his wish to see her married and settled, it's Pax Callahan who comes to mind and she tells her Daddy she has been secretly dating Pax and they are engaged. This makes her Daddy so very happy. He has long looked forward to walking Alana down the aisle on her wedding day. Now to tell Pax what she has done and hope he goes along with this fake engagement and wedding.
Paxton Callahan is the ultimate cowboy living the Cowboy Code of Ethics. When Alana Carey slapped him after he kissed her behind the barn when they were thirteen years old he was so disillusioned. He thought she liked him. Guess not. All these years later he and Alana realize they truly are friends. He has done kind things for her and he respects the heck out of her Daddy, Matt Carey. When Alana tells him she told her Daddy they were engaged and why Pax is determined to do all he could for Matt's sake. It sure was no hardship pretending to be Alana's fiance. As time went on Pax started to wish this fake engagement and wedding didn't have an end date. Spending so much time with Alana made him realize that his feelings for Alana were stronger than friendship. But have Alana's feelings toward him changed?
Every time Carolyn Brown puts pen to paper, or actually in this day and age fingers to her keyboard, the end result is a cowboy who epitomizes strength, honor, dedication and loyalty. Pax sure fits this description. He is the perfect example of a cowboy living the Cowboy Code of Ethics. He's not perfect but I greatly admire him and Alana both. Their determination to make Alana's Daddy's last days happy ones is admirable for sure. Ms. Brown's cast of characters in this story is a fun bunch to read about and they all, except Alana's nemesis Rachel Freeman, make me want to live among them. This story touches at your heartstrings and evokes smiles and tears at the couple's situation. I sure was rooting for them throughout the book. I liked the surprise appearance towards the end of the story. This book is heartwarming; sunshine for your heart.
Book Info:

Publication: June 30th 2020 | Forever | Longhorn Canyon #7
A rugged Texas cowboy and the girl next door find a fake engagement feeling all too real in this heartwarming romance from a USA Today bestseller.
Alana Carey can out-rope, out-ride, and challenge even the best Texas cowboy. But she does have one soft spot — and his name is Paxton Callahan. With Pax back in town, Alana's old feelings have returned with a vengeance. But she barely has time to process her attraction for the hunky cowboy before her father falls ill. All he wants is for her to marry and settle down before he passes away, and Alana isn't about to break a dying man's heart.
Paxton Callahan has been in love with Alana since…forever. Now that he's living right next door, the electricity between them is about to set the whole Texas panhandle on fire. When Alana presents him with a crazy proposal — to pretend to be her fiancé so her father can die in peace — Paxton can't refuse. But as the faux-wedding day draws near, Alana and Paxton must decide whether to come clean about their charade or finally admit their love is the real deal.
Includes the bonus novella Sunrise Ranch for the first time in print!