Captivated by Tessa Bailey, Eve Dangerfield: Fantasy meets reality? Old school fairy tale becoming new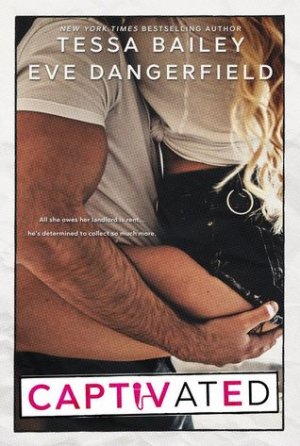 school real life?
Autumn Reynolds really thought she had just woken up from a nightmare. The problem was she wasn't sure what she had woken up into. Her boyfriend of many years, the one she moved across the world with cheated. Now she was alone with her fantasies and with the reality of making her own choices, to stay and try and make it on her own or go home and fall back into what she had been trying to escape.
Blake Munroe was content with his existence; he was doing what he needed to do. Some might liken him to the beast, between the limp and the hiding away but he wasn't going to be giving out his heart any time soon. Nor was he even going to allow himself to get close to anyone. Then he met Autumn.
When the beast meets the beauty can there be a fairy tale ending? Or will reality prove it's a b***h?
Wow, this was nothing like expected. It was SO much more. This is by no means a sweet romance. This is a down and dirty, trash talking, heart wrenching f**k fest. This story is not for the faint of heart, but for those who enjoy a little bit of role play, BDSM, and of course happily ever afters. It truly does take elements of a fairy tale make it so real that you can see it. The insight into these characters is done in am amazing manner where they truly "get" each other and more so the reader is offered an insight not frequently given. This is a true must read, but is so hot (and a bit dirty) that you are definitely going to need a new set before you finish.

Book Info:

Publication: Expected publication: June 11th 2018 | Dangerbailey |
Secret aspiring comedian Autumn Reynolds is a girl gone…not wild exactly. More like lazy. Since her boyfriend abandoned her in New York City for a bunch of improv groupies she's had two priorities; sucking the nitrous out of whipped cream cans and making sex comics about her mysterious landlord.
Blake hates people—and sunlight—with good reason. Imagine his surprise when he finds himself lusting after his upstairs tenant, a sunny, Australian people pleaser down on her luck. Turns out his ability to terrify with a single scowl comes with an advantage. Autumn seems to like it. A lot. As evidenced by the prisoner-captive comic Blake was never meant to see.
As they embark on a three-date arrangement the rules are clear; filthy, ground breaking sex, no feelings or commitment required. When chemistry is this strong, though, attachment follows. As Blake and Autumn attempt to negotiate their New York romance, their prior histories and secret dreams come to the foreground. How long can these polar opposites remain Captivated, when all signs point to disaster?