Caroselli's Baby Chase by Michelle Celmer is a fun, hot and sexy read that will keep you turning the page till the very end.
Robert Caroselli didn't want to go out on New Year's Eve. He wanted to stay home and go to sleep, but the woman he was dating insisted that they go out to a bar. Only now she has left in the arm of another man and left him by himself, not that he minds. He wants time to himself after his family told him that they were bringing an marketing consultant to help him for they don't believe that he is capable in his job.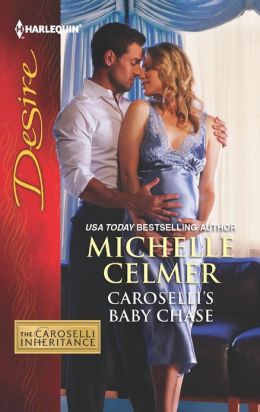 Caroline Taylor is in Chicago for three months to help Caroselli Chocolates. For now she just wants to have a drink at the bar before she has to show up for a meeting with the board of directors to see if they will indeed hire her. But there is not room to sit in the bar and the only place available is at a table with a man.
As they wait for the ball to drop they start talking over drinks. But since they cannot start a New Year without a kiss they start kissing a few seconds before the ball finishes dropping. A kiss that leads into them having a one-night stand in her hotel room, only the man she believed she heard called Ron is actually Robert Caroselli, the man she will be working with directly.
If either of them believed that would be enough reason for either of them to back down, then they are sadly mistaken for neither she will back down from the challenge of helping Caroselli Chocolates something that can either make or break her career, nor he will back down and let her run the show completely. But not only that, what they started on New Year was just a taste of what is to come, for the chemistry is just there waiting for them to get close to each other again.
As they spend more time together working Taylor will learn that she cannot keep her self away from temptation, and since Rob is keeping to himself and not even trying to touch her, she is going slowly crazy wanting him again, something that neither will be able to keep from for much longer.
But when a surprise awaits them from a ripped condom, they will have to see inside themselves and see if what they have is love. They will have to be willing to fight for the family they can become and not go back to old ways and run and chase away what truly matters in their lives.
Book Info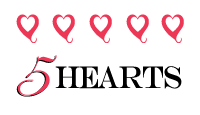 Publication Date: April 2, 2013 | Series: Harlequin Desire (Book 2226)
"You can't start the New Year without a kiss."
When those words lead to a delicious one-night stand, consultant Caroline Taylor's fate is sealed. Because she soon finds out her seducer is Caroselli Chocolate's marketing director—and her new job is to overhaul his division. It leaves a bad taste in her mouth—and what if she's pregnant with Robert Caroselli's baby?If necessary, Rob will do right and make his dreamy corporate nemesis his wife. He might even inherit millions if he produces a male heir. But his marriage plan will never succeed without the secret ingredient—true love.