Carousel Nights by Amie Denman is a super touching story. I plan to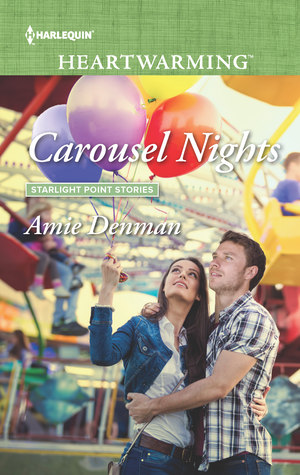 now read the first one in the Starlight Point series, to learn more about June, her family and Starlight Point. In "Carousel Nights", June feels a nearly constant tug of war in her emotions between helping to revitalize her family's amusement park, and continuing to pursue her blossoming Broadway career as a dancer and hopeful singer.
While spending the summer at the amusement park having the theaters renovated and creating fresh shows for the visitors, June also is reunited with Mel, whom she dated as a teenager before leaving home. Mel now is in charge of park maintenance, as well as being the single father of an adorable little boy. This little boy, Ross, captures June's heart instantly.
As Carousel Nights progresses, June gradually realizes just how special a place Starlight Point, her family and Mel and his son all hold in her heart. She also feels an immense sense of ownership for how well the shows are received by park visitors, as well as the parade she brainstorms and brings to fruition. And then New York and the Broadway opportunity of a lifetime beckon…what will June do?
I so enjoyed Carousel Nights! Having always loved amusement parks, both big and small, and feeling the magic in the air anytime we visit one, the idea of a romance built around an amusement park is very special. There is just something so magical, so nostalgic about being in an amusement park. And I really enjoyed seeing what a community Starlight Point and its employees really are, between the park, the hotel, the vendors etc.
Romance readers as well as lovers of Disney and other theme parks will enjoy this sweet story.
Book Info:

Publication: August 1, 2016 | Harlequin Heartwarming | Starlight Point Stories #2
une Hamilton left home to pursue her dream of dancing on Broadway. Seven years later, she has one regret: Mel Preston, her teenage crush and onetime summer love. Now a single dad and the head of maintenance at Starlight Point, her family's amusement park, Mel's easy smile still makes her heart beat in triple time. But June came home with a plan. She would spend the summer revitalizing the park's aging theaters, then make a graceful exit back to the big city. Until Mel and his young son start making a powerful claim on her emotions, and June faces an impossible decision…