Catastrophe Queen by Emma Hart: To say that Mallory is a klutz is an understatement. She'll trip over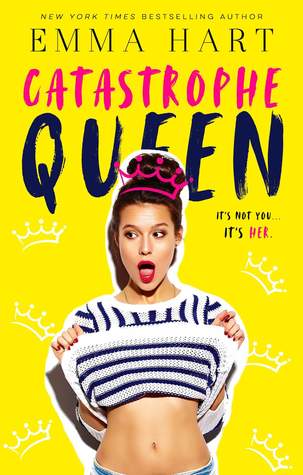 anything or nothing at all and she attracts disasters like bees to honey, which is how she ended up living back with her parents. She's smart, sassy, sarcastic, and a pro at dealing with strong personalities. She's desperate to live on her own again, if only she can find a job.
Cameron runs the family real estate business. He's sexy, charming, generous, fun, and can't find an assistant he likes. He loves his job, even if it means dealing with his mom's continual need to interfere and meddle.
It's just another disaster when Mallory is almost run over by the most attractive guy she's met and proceeds to make a fool of herself in front of him. She's comforted to know they'll never see each other again, until she learns that she is none other than his newest personal assistant. She needs this job to work out, especially now that her eccentric relatives are in town.
Cameron: It's too early in this professional relationship for you to demand things.
Mallory: Next time you're in and Cynthia Carlton calls, I'm patching her right through.
Cameron: Cream cheese bagels with ham and coffee and cinnamon rolls it is.
Cameron and Mallory seem to work well together and it helps that Cameron is often out of the office showing properties. He proves to be friendly, kind, and laid back as they get to know each other. They bond over their crazy families and it helps when Cameron finds her mishaps to be adorable and humorous. Both feel the chemistry and they're reluctant to cross that line, no mattering how tempting it is.
I stopped us a few feet from the car. "Eyes on where you're walking. I watched you trip on the rug this morning. I don't want to be responsible for you breaking your ankle in heels."
She shoved me in the arm with a half-smile. "I was focusing on not spilling your coffee."
"True." I released her to open the car door. "And somehow you managed not to."
Catastrophe Queen is laugh out loud funny. Emma Hart painted a vivid picture of not only the many catastrophes Mallory attracts but also the colorful characters in their respective families. Ms. Hart provided banter, tension, anticipation, humor, and heat in this slow burn office romance. Fans of Leddy Harper and Cindi Madsen will enjoy Catastrophe Queen.
Book Info:

Publication: January 29th 2019 | Independently published |
It's not you. It's me.
No, seriously. It is me. Not only does my name literally mean "unfortunate," but that's the story of my life.
Everything I touch turns to cr*p. An apartment fire—that I swear I was not responsible for—means I'm living back at home with my s*x-mad parents. Yay, me!
Which is why I need my new job as personal assistant to Cameron Reid to get back on my feet. Three months in this job and I can move back out and, hopefully, remember to turn off my flat iron once in a while.
Ahem.
On paper, my job is easy. Make coffee. Book appointments. Keep everything in order.
Until I walk in on my boss, half-naked, wearing nothing but the kind of tiny white towel that dreams are made of.
Now, nothing is easy—except our mutual attraction. But he's my boss, and you know what they say about mixing work and pleasure: unless you do p*rn, it's just not worth it.
Or is it?