Catch Me by Michele Arris is the second book in the Tycoon's Temptation but I don't feel like I missed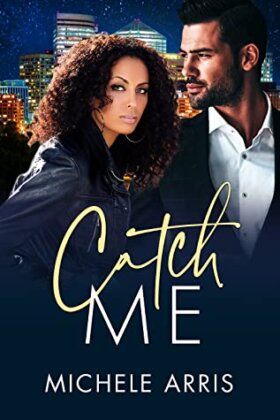 anything by not reading the first book before this one. This was a new author for me, so I wasn't sure what to expect but the book was well written, easy to read, and it caught my attention right away. I feel that the storyline and characters were developed even though it was a short book.
Tabitha Seils had finally got over her broken engagement and had just decided to adopt a baby since she was told the chances of her becoming pregnant were small. Tabitha was sassy, stubborn, and bossy; especially when it came to her bakery business. She was co-owner of Chase Confections, which was being rebuilt and going into partnership with Shaw Casinos. She was relentless about what the bakery should look like and butted heads too often with Dominic Balaska who oversaw the new construction. Her partners talked her into going to Las Vegas and representing the bakery for the Shaw-Vegas Casinos' 5th-anniversary celebration. Although leery of going since Dominic would be there, promoting Chase Confections would help increase their business profit and she needed more money for the adoption fees.
Dominic Balaska, Trent Shaw's half-brother, wanted to be part of Trent's new condo project in Dubai, but to do that he needed access to his trust fund. He had six months until his 31st birthday to get married so he could get the first part of his trust fund. His mother kept taking him to task about getting married and taking over the family business, but he didn't want to manage the business. He was gregarious, charismatic and the best person to promote and organize the casino's anniversary celebration. He had no prospects for marriage and so he agreed when Tabitha said she would marry him if he would give her money for adoption fees. Their marriage of convenience gets complicated when their feelings start to get involved.
This was a fast book to read but was full of humor with all the witty banter between Tabitha and Dominic. I enjoyed reading it and can't wait to read the rest of the series.
Book Info:

Publication: July 23rd 2020 | Tule Publishing | Tycoon's Temptation #2
It was supposed to be a straightforward business agreement…
Businessman and COO Dominic Balaska almost has it all, except $20 million to get in on a lucrative real estate deal. His trust fund document requires him to be married by his 31st birthday. In six months. With no romantic prospects in sight, he looks toward Tabitha Seils. She's made it clear she doesn't like him, which is exactly the no-strings deal he's looking for.
Custom pastry chef Tabitha Seils wants nothing more in life than a baby. So when a new mother considers Tabitha to adopt her infant, Tabitha nearly bursts with happiness. She makes the first of three payments but needs to find a way to pay the rest. Marrying Dominic is a win-win: they can access his trust, divvy up the money, and get an annulment.
Neither expected their marriage of convenience would bring about real feelings. Nor the twist in store for their arrangement that could cost them everything.