Catch 'n' Kiss (Are You Game #2) by Rhian Cahill, is a hot and compelling read. The first half is dominated by the sexual relationship between the two main characters; divorced, single mother of two Jody Walsh, and successful, good looking bachelor Dan O'Conner. Both work for "Are You Game?" an event planning company. The second half of the book evolves their sexual relationship into friendship, security and love.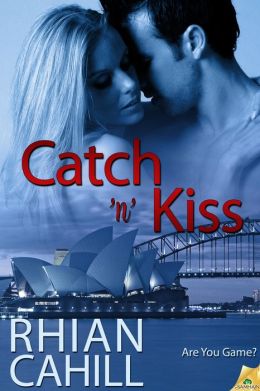 From the day Jody was hired and began sharing an office with Dan, there was sexual tension in the air. Jody tried to ignore it and work around it, but Dan's very presence caused her to shiver. Dan knew he had to act upon his attraction to Jody, especially since he never felt this kind of connection with any other woman before she came into his life. After a couple of hotter than hell kisses, they are both in lust with each other. When they are assigned to work a weekend corporate event together, the damn finally breaks and they experience the best sex of their lives. Ms. Cahill's sex scenes are sexy, steamy and exquisite.
Due to Jody's miserable experiences with her ex-husband, she is reluctant to move forward in a relationship with Dan. In addition, she is a few years younger than Dan, which is also causing her some discomfort. She has two teenage girls to consider and she does not want them to form a bond with just anyone. Jody is a private person and is afraid to let down her barriers and let someone in. However, Dan preservers and never gives up on the hope of a future with Jody. In less than a month, Jody as well as her daughters are head over heels in love with Dan. Only Jody is having difficulty realizing it. Dan has never been in love, so acknowledging his feelings for Jody is a revelation.
I liked this story, however there are a few things that prevented me from loving it. To begin with, I had to read the book blurb and some of the reviews from Are You Game #1, in order to clarify what Jody and Dan did for a living. I found their occupation to be unclear with this book. Secondly, there is a ton of hot, steamy, sex in the first half of the book and not much storyline to go along with it.
Then the second half of the book kicks in and wow is the story terrific. The plot is well balanced with action, emotion and realism. The characters come alive with the need to be a family and Ms. Cahill does a great job of bringing it all together.
Book Info:

Published March 4th 2014 by Samhain Publishing, Ltd. | (Are You Game #2)
In this game of chase, a kiss isn't the only reward.
Are You Game? Book 2
Divorced with two teenage daughters, Jody Walsh doesn't need any more complications in her life, and Dan O'Conner is proving to be a big one. His pursuit may give her bruised ego a much-needed boost, but Jody's learned to guard her heart and trust is something she isn't willing to give another man no matter how well he kisses.
One kiss and Dan knows what he wants. He isn't about to walk away from the kind of chemistry he and Jody have. Unfortunately, the more he chases the more she runs. If only he could get her running in his direction.
When a night of passion doesn't convince her they're meant to be, Dan is left with no choice but to prove he's worth taking a risk on, no matter how much he complicates her life.
Warning: Story contains a woman not willing to put her heart at risk and a man determined to persuade her otherwise—and he's willing to use his washing machine to show her why he's worth it.