In Stealing the Groom by Sonya Weiss, Amelia Snyder has to steal the groom before he makes the biggest mistake of his life by marrying Claire, also known as Mean Girl #1. She knows that Chad said it was all business only and that he has already made an agreement with the Claire and all is agreed upon even how much settlement she will get once they divorce in six months.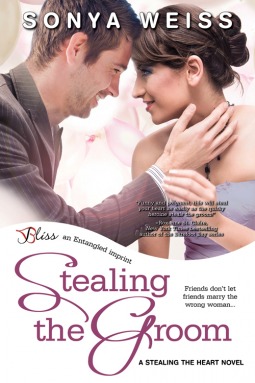 Amelia believes that Claire has not changed from the Mean Girl she was back in school, she showed this charming girl to the boys, but the girls knew what she was really like. If she lets Chad marry here, Claire will not divorce him just to keep his fortune and make him unhappy for the rest of his life. Only she has been unable to convince Chad otherwise, and unless she kidnaps him the wedding will go through.
Chad Walker always makes sure to make a plan and follow it through, that way nothing can go wrong. Only as he arrives at the church to marry Claire,  someone steals the limo with him inside it. Not only that, he soon finds out that the person kidnapping him is his best friend Amelia.
At first he thinks he can reason with her, but soon realizes that maybe moving the wedding back one more day won't affect much and it will give him some time with Amelia so she can get over her ideas. So he begins to question her about her plans on the kidnapping and planner that he is, he begins to list out his own plans. But things are not as simple as he thinks for soon they will get lost and with the storm that is brewing things are about to get interesting.
You have to read Stealing the Groom to know what happens, but all I can tell you is that it will have you laughing from the very first pages. The luck that Amelia and Chad have sure is something, let's just say they burn down a cabin, a tree falls on the limo and they end up breaking into the cabin that belongs to the sheriff. And that is just the beginning and before they get married.
Then they will have a hard time keeping things just friendly and continue ignoring the chemistry that they have both been feeling for a long time. Not to mention get past their own traumas that made them the way they are, one with wanting everything planned minute by minute and the other running from anything and everything. And their meddlesome but loving grandfathers, who has a hand in almost everything that happens from before Amelia decides to kidnap Chad. Honestly this was a great read, I can't wait to find out what happens in the next books between Amelia's sisters Ann and Abby and Chad's friends Nick and Eric. There is a story there that I can't wait to read.
For a fun, flirty and sweet read, don't miss Stealing the Groom by Sonya Weiss.
Book Info:

March 10th 2014 by Entangled Publishing – Bliss
Friends don't let friends marry the wrong woman…
Chad Walker may be a take-no-chances man with a plan, but there's no way Amelia Snyder is going to let her best bud marry Mean Girl #1—even if the wedding is solely so he can secure the controlling shares in his family's company. But free-spirited Amelia's at-the-altar groomnapping scheme takes a surprising turn when she ends up as the blushing bride instead.
Suddenly, with Amelia living in her handsome husband's home—in his bedroom, no less—she starts to reconsider their strictly platonic arrangement. But Chad's always been anti-risk and definitely anti-love, and betting a lifetime of best friendship on the chance at forever might be the biggest gamble of all.