In Chasing Cassandra (The Ravenels #6) by Lisa Kleypas, Lady Cassandra Ravenel has watched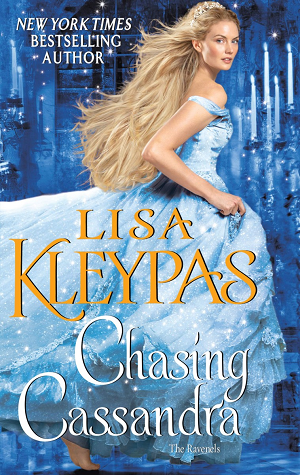 her siblings fall in love with their soul mates, one after another, leaving her to wonder if she will soon get her turn. With the Season creeping up quickly, she knows it will be more of the same parties and balls designed to match her with gentlemen she's already met and turned down last year. Then Cassandra meets Tom Severin. It shakes her world up in a way she never expected, particularly since the businessman has never shown an ounce of emotion in her family's presence–other than with her, that is. She's dreamed of a love match for years and wonders if Mr Severin could be that for her. It could take some doing, but Cassandra is determined to be the one to finally break down the walls around his heart.
His voice was different than she'd ever heard it, quiet and even a little shaken. "There are no limits to what I would do for you."
Tom Severin has amassed a fortune in his many business endeavors over the years but for some strange reason securing new deals no longer brings him the satisfaction he once felt. When his closest acquaintances point out that it might be time to find a wife, Tom begins his search. And while there are many suitable woman, he becomes enraptured with Lady Cassandra. He normally lets his mind guide his actions. But somehow he is drawn to the lovely young woman even though their match may not be the smartest one for his future. Or hers. For no one in Cassandra's family thinks Tom is the right man for her. But he's not sure he can let go of the one woman who thrills his formerly frozen heart.
"Perfection is impossible. Most mathematical truths can't be proved. The vast majority of mathematical relations can't be known. But you…standing here in your bare feet in that dress…you're perfect."
Delightful characters and witty bantering–along with smoldering attraction–made Chasing Cassandra an absolute pleasure to read. As did getting to catch up with the wonderful cast Lisa Kleypas created for this series that I just can't get enough of.
'How eloquent this man was on nearly any subject except his own feelings. But there were moments such as now, when he allowed her extraordinary glimpses into his heart without even seeming to be aware of it.'
I probably say this about all of Lisa Kleypas's couples, but what an interesting match she made with Tom and Cassandra! They seemed like opposites, but our inquisitive heroine showed amazing strength of character, and our reluctant hero had hidden depths I wasn't expecting after seeing him in previous books.
Tom was a shrewd businessman, almost to the point of being callous in some ways. It didn't help that he didn't really understand emotions. I'm not sure if it was his upbringing, or a lack thereof. Or if it was that he was possibly "on the spectrum" as we would say now, based on his mannerisms and the way he handled his everyday life. But Tom did have a compassionate nature hidden in his mathematical mind and workaholic tendencies. And I loved watching him go from literally counting the number of emotions he would let himself feel to being in awe of how Cassandra changed his life in so many ways for the better.
Cassandra herself was a lovely young woman. She was the quieter, more introspective sister compared to her twin Pandora and their sister Helen. I thought she was perfect for Tom, though. She knew just how to phrase things to soothe him and have him understand what she was feeling. And Cassandra kept an open mind when it came to learning about Tom's work and interests. I love that she accepted him as he was (for the most part). She of course hoped he would open up emotionally as she dreamed of marrying for love, but once a few events happened that drew them closer together, Cassandra knew she could be good for Tom–and they could be great together. Their relationships with the people around them–including a young orphan named Bazzle who I adored–added liveliness and depth to the book as well.
Chasing Cassandra was a sweepingly romantic, slow burn historical romance with all the laughs, poignant moments, and tender scenes I crave in Lisa Kleypas' work. I hope fans get as much enjoyment out of this story as I certainly did.
Book Info:

Publication: February 18th 2020 | Avon | The Ravenels #6
Everything has a price…
Railway magnate Tom Severin is wealthy and powerful enough to satisfy any desire as soon as it arises. Anything—or anyone—is his for the asking. It should be simple to find the perfect wife—and from his first glimpse of Lady Cassandra Ravenel, he's determined to have her. But the beautiful and quick-witted Cassandra is equally determined to marry for love—the one thing he can't give.
Everything except her…
Severin is the most compelling and attractive man Cassandra has ever met, even if his heart is frozen. But she has no interest in living in the fast-paced world of a ruthless man who always plays to win.
When a newfound enemy nearly destroys Cassandra's reputation, Severin seizes the opportunity he's been waiting for. As always, he gets what he wants—or does he? There's one lesson Tom Severin has yet to learn from his new bride:
Never underestimate a Ravenel.
The chase for Cassandra's hand may be over. But the chase for her heart has only just begun…