Christmas Baby for the Greek by Jennie Lucas: Holly always puts others first. She values family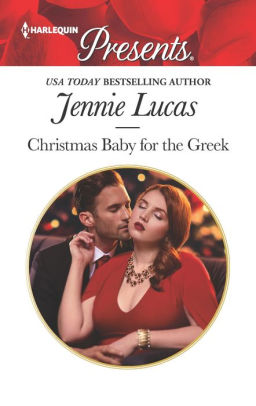 and love over everything else and she dedicated her life to raising her sister after losing their parents and then making her boss look good. She's sweet, giving, generous, and unsure of her future.
Stavros is a workaholic and a playboy. As the CEO of an ever-expanding company with cutting-edge technology, he works all the hours of the day to stay on top. He loves his job and his company, so it's not a sacrifice. When he gets unexpected news, he does rethink his priorities and how he's lived his life.
Holly is a secretary for another executive at Stavros' company. They don't really interact until they end up as best man and maid of honor for her boss' wedding. They see each other in a new light and he pushes her to want more for herself. Both are surprised by a new and unexpected attraction.
"Why are you forcing me to see the truth?" she said helplessly. "Why do you care?"
Stavros abruptly stopped dancing. He looked down at her, his black eyes searing through her soul.
"Because I want you, Holly," he said huskily. "On my arm. In my bed." His hand trailed through her
hair and down her back as he whispered, "I want you for my own."
Their night was like a time out of time and they go their separate ways. Stavros is shocked to learn later that their memorable night resulted in a baby. Pregnancy and motherhood has changed Holly. She's not so willing to just go along when Stavros walks back into her life and insists on marriage. The chemistry is still there, but Holly needs more.
"Of course you won't," he said easily, still smiling. "You don't trust me. Because I treated you so badly."
Her lips parted. Then she narrowed her eyes. "Whatever you're doing, it's not going to work. My
answer's still no."
She was too intuitive by half. "All right. So let's talk about Freddie. And what's best for him."
Christmas Baby for the Greek is fast paced, passionate, and a rollercoaster. Jennie Lucas created strong-willed characters in an opposites-attract romance. Ms. Lucas provides descriptive settings, the magic of the holidays, and interesting secondary characters, both likeable and unlikeable. Fans of Annie West and Kim Lawrence will enjoy Christmas Baby for the Greek.
Book Info:

Publication: Published October 1st 2019 | Harlequin Presents |
"Did you have my baby, Holly?"
Facing the worst news imaginable, Stavros seeks oblivion in an incredible encounter with Holly. And a year later, he discovers she's had his child! In his mind, nothing could be more logical than legitimizing his heir with a ring.
Yet he's stunned when Holly disagrees! Yes, he rejected her after their night together, but she deserved more than he could offer. He's spent years building his emotional walls, he can't possibly break them down… This Christmas, to claim his bride and son, will Stavros take the ultimate risk?