In The Jingle Bell Bride (Christmas Brides #2) by Scarlet Wilson, being a wedding planner is hard work, and the bride Jessica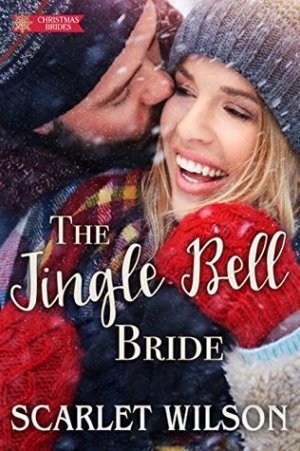 Christie is planning for at the moment is determined to make her life much more stressful than it should be, especially with the demands the bride is making. When she's asked to head to Alaska to get a special flower for the bride's bouquet, Jessica doesn't complain. At least until she finds herself stranded and possibly unable to make it to her famous client's wedding on time. However, Jessica finds that going to Alaska is time worth spent, especially when she meets Matt Holden. Will Matt be able to convince Jessica to give them a shot at happy ever after, or are their lives too different for her to ever consider giving Matt a chance?
He picked up the first suitcase, "Looks like you'll just have to stay with me."
Her chin dropped and bright blue eyes widened. "Oh no. I can't ask you to do that." She looked from side to side. "There must be somewhere I can stay. A motel? Some kind of hostel? I don't want to inconvenience you."
"You've already inconvenienced me, and I have an appointment I need to keep. It's your choice, Ms. Christie. You either come with me now, or you can spend the night in the airport."
Every single book I've read by Ms. Wilson have been an absolute pleasure to read, but there was something about this book that really got to me and had me reading like a speed demon, determined to discover how things would turn out for Matt and Jessica as they're certainly total opposites. But then again, opposites attract and these two definitely light up the pages with their chemistry and lightly-detailed romance to make this book a wonderfully captivating Christmas-themed story that I read in one sitting. The way this story started had me feeling sorry for the heroine, as her bride is a definite bridezilla with her unreasonable demands and pretty much thinking that Jessica is at her disposal twenty-four/seven. However, in saying that, I really liked the way the hero and heroine were introduced to each other, as Matt has been through a lot in his life and isolated himself from his family and isn't all that enthused to have Jessica arrive. Yet, I liked that the hero was sympathetic to her situation and didn't make things harder for her than they already had become.
As for the dialogue, it was very interesting due to the main characters back stories, especially that of the hero, because it seems running away from his past has been good for him. Yet, in saying that, the heroine's back story is just as good because she's worked hard at being a wedding planner, but it's not what she wants to do for the rest of her life. Moreover, the heroine is resilient, driven and I liked her dreams for her future, even though it seems it may take her a while to achieve because her plans are impressive and to do it she needs money. I also liked how the heroine copes with the situation she finds herself in, considering her trip was supposed to be simple. Yet, what I liked most of all about the heroine is that she gave the hero a chance, even knowing that they lived miles apart and that to be together one of them would have to make a huge decision. Will it be the hero or heroine?
"Where were you?" He frowned.
"Oh, I was herding reindeer. Carter was making a break for freedom."
"He was?" This time he did meet her gaze as his eyes narrowed. "How did you get him back?"
She shrugged. "I learned from the master. I tempted him with carrots."
While the hero, he's been through a lot in his life and I could understand why he needed to get away from everything that reminded him of the woman he once loved. However, being in Alaska is good for him since it has given him to time to deal with his grief and begin to heal. Furthermore, the hero is kind, caring, hard-working and I liked all that he did for the couple he helped. I also liked how determined the hero was to win over the heroine and make her realize that staying in Alaska could be a good thing for her plans for the future. Will she allow the hero to help her?
Overall, this was a fun and riveting read where the main characters back stories had me a little emotional; the chemistry between this couple was strong and kept getting stronger as the hero interacted more and more with the heroine; and the ending had me worried for this couple's happy ever after. However, in saying that, I liked that the heroine made the right decision, because she'd never be happy without Matt in her life since it was palpable these two were made for each other. Yet, it was the epilogue that wrapped this story up nicely because of the heroine's words on the most important day of her life. I would recommend The Jingle Bell Bride by Scarlet Wilson, if you enjoy Christmas-themed stories, the opposites attract trope, or books by authors Sinclair Jayne, Joan Kilby, Eve Gaddy and Karen Foley.

Book Info:

Publication: October 3rd, 2017 | Tule Publishing | Christmas Brides #2
New York wedding planner Jessica Christie always goes above and beyond for her clients. So, stopping in Alaska to pick up the famed Jingle Bell flower for her famous client's bouquet doesn't seem too outrageous–until she ends up stranded there.
Matt Holden has spent the last five years since his fiancée died, living in a virtual bubble in Alaska. His research work as a botanist and assistant at the local reindeer farm keep him busy during the holidays.
But when Jessica Christie bursts into his life, all bets are off. Her stay is definitely temporary, but the feelings she ignites aren't. Could Ms. Oh-So-Wrong actually be Mrs. Right?