In Christmas Dinner by Robyn Neely, Amanda Turner is a successful news anchor, even if her co-anchor can get on her nerves most of the time. Amanda believes that this segment will be the best one in her career, since it will make breaking news and she has been the one working hard at uncovering it.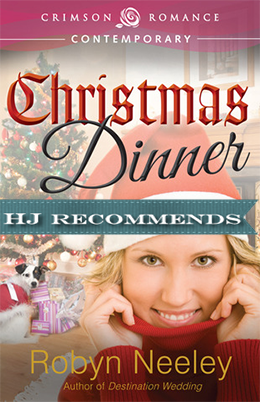 Unfortunately right when she is live and about to break the news, the teleprompter malfunctions, to make matters worst she doesn't have any notes with her and she is not good at winging it. So when her co-anchor Tate Ryan breaks her story she believes that he stole her thunder when he didn't really work for it.
As Amanda is at a bar drinking her sorrows of the bad day away, she receives a text from her brother to check her facebook. She doesn't know what he wants her to see since she rarely logs in. But as she is checking she notices that her ex-boyfriend has changed his status to engaged. He is getting married before she is!
When Tate walks into the bar, he can't help but notice that Amanda is there drinking alone and approaches her. Only as soon as Amanda notices him she tells him she is leaving to dinner and decides to walk to an empty table, and to be honest she needs the food after all those drinks. But Tate doesn't get the hint and follows her to the table and sits down too.
Amanda didn't expect that the news of her ex would be this hard or the pain it would bring, not because she still wants him, but because she wanted to be the first to prove she had moved on and was not still hurting for him. Only as Tate starts to try and draw her out and find out what's wrong she tells him the whole story. How she used to love Christmas but after her ex broke up with her on Christmas in front of everyone, when she had believed he was proposing, she couldn't face the holiday again and or her friends and family and left her small town for the big city.
What comes as a big surprise to Amanda is Tate offering to be her fake boyfriend in front of her family so she could go home for the holidays and show them she was not hurting after her ex. But after so many drinks things get a little blurry to Amanda after a while, to the point that Tate has to take her home. Only she won't give him her address and he ends up taking her to her assistant's home.
At first Amanda doesn't know what happened the night before and freaks out when she wakes up, sees Tate and his tie wrapped around her arm. Soon she finds out that she is not at his home and nothing happened. But she does not want to take him up on his offer to be her pretend boyfriend, until they go to pickup her car at the bar parking and find out that her car is destroyed. Now she has no way to go back home, and the only solution to all her problems is Tate.
But Tate has a few secrets too, especially about knowing Amanda from a long time ago. And that all his conquests are not what she thinks and the only person that has only mattered to him since a long time ago has been her.
A great story just in time for the holidays, a grinch-like Amanda, a hot Tate who will make her believe in Christmas again and the ghost of her loved ones that will help her open her eyes to the truth she has forgotten and the things she has not realized.
For a great romance story with just the perfect holiday feel, don't miss Christmas Dinner by Robyn Neely.
Book Info:

HJ Recommends 
November 18th 2013 by Crimson Romance
News anchor Amanda Turner used to love everything about the holidays—the eggnog sugar cookies, the tacky family Christmas sweaters, and a lawn decorated with so many multi-colored lights that 747s could land safely. That is until her boyfriend dumped her in front of the whole town on Christmas Eve. Humiliated, she fled her small town to start a new life. Two years later, she's finally ready to return to the scene of the emotional crime, until she learns that her ex is engaged. Now, the only thing worse than going home is going home single.
Tate Ryan, her tall, dark, and arrogant co-anchor, offers to pose as her boyfriend. There's one problem, though: they barely like each other, and he recently scooped her story on live TV. But she needs a ride home and a boyfriend fast, so Tate will have to do.
As she watches Tate interact with her family and town residents, fully embracing the spirit of the holiday season, she starts to see his kindhearted side. She can't help but wonder if she was wrong about him. Perhaps he isn't the conniving co-worker that she once thought. And her new feelings for him would definitely put her on the naughty list.
Tate has his own agenda for the weekend that includes telling Amanda he's been in love with her since the first time they met. He's ready to reveal all during Christmas dinner but fate has other plans.