Chrome: With a Heart Forged in Steele (Carolina Bad Boys #4) by Rie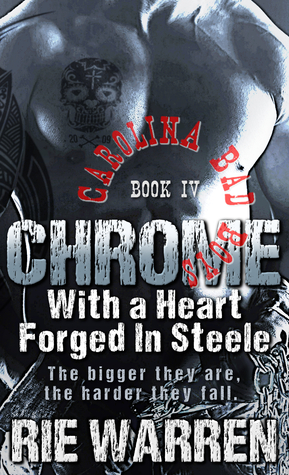 Warren: I have read the entire Carolina Bad Boys Series, the spin of Bad Boys of Retribution MC and I have been waiting for Boomers book to be released. I can honestly say that the wait was so well worth it. The way that Rie Warren writes her bad boys makes you shiver, makes you melt, and makes you pant. This is the long awaited story of Boomer and Rayce.
Boomer is the older brother of Brodie and Cat, co-owner of Chrome and Steele and President of Retribution MC. He has had his hands full helping his siblings after the death of their parents, running the MC and hiding the pain that he hides from everyone. Not one to take a shine to anyone, Boomer is knocked on his butt and is chasing himself trying to get Rayce to give in and let him rock her world.
Rayce is interested in Boomer, hurls insults at him every chance she gets and likes to remind him that he is an old man. FOREPLAY! When these two finally give into the growing passion that is about to explode between them, it is HOT. But Rayce is a runner, wanting to hide her secrets, not wanting to let anyone know about her father, the things that he has done to her, the things that he has forced her to do.
But Boomer is not about to let Rayce run, He wants to protect her, mark her, make her his woman. When the man that never wanted the commitment and the woman that is terrified of not being enough finally stop running, it is something truly electrifying.
This book is not for the faint of heart. The things that Rayce has had to endure broke my heart, but she is such a STRONG woman and it is that strength and Boomers love that will help her get to the other side. We get to see the gentle and vulnerable side of Boomer when he talks to Rayce about the death of his parents and how he blames himself for driving the car that night, the guilt that he feels. It is Rayce that helps Boomer let go of the guilt and to realize that he is truly not to blame.
I have loved ever book in both series and the fact that all of the characters from the previous books make appearances in this one again, amazing. I look forward to more in this series, as there are still a few guys that need to meet their female match! I give this amazing book 5 solid, shiny, chrome stars.
Book Info:

Publication: November 3rd 2015 | Rie Warren | Carolina Bad Boys #4
Boomer Steele is big. He's bad. He's the Retribution MC pres. He's been dealt the worst hand imaginable and bears the scars inside and out. Not that anyone knows it. He's watched his younger brother and sister hook up and hitch up with the loves of their lives, and now he's the last Steele standing alone. Maybe he should keep it that way.
Then one feisty honey makes him feel, gets in his grill, pisses him off.
She goes by the name of Rayce. And that's exactly what she does on her motocross bike when she's not busy getting her hands dirty with her fellow grease monkeys as the only female mechanic at Stone's Garage. She's into fixing bikes, racing hers, and making Boomer's life a living hell just for the fun of it. Oh, and she hates being treated like a girl.
Sparks flying? That's an understatement where these two are concerned. Yet when Rayce needs a place to live, and Boomer offers her a room in his house, their unquenchable attraction wins out over antagonism. Sometimes. Rayce's crappy upbringing makes her think love is for stupid fools asking for heartbreak. She's not willing to go there for any man. Not even Boomer Steele.
The bigger they are, the harder they fall.
Note to readers: this book addresses the issue of domestic abuse.