In Cinderella and the Geek (British Bad Boys) by Christina Phillips, With only a few more weeks until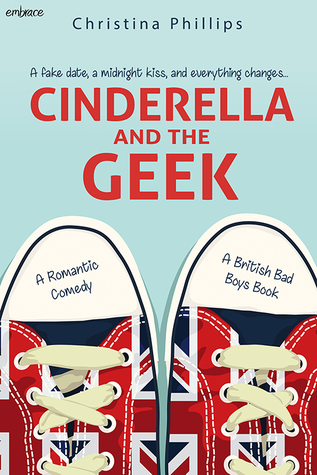 she heads off to college, Alice is winding things down at work. But what remains ramped up is her attraction to her boss, Harry. Super sexy, incredibly smart and a seriously good guy, he's her secret fantasy brought to life. Thanks to some late night talks with her gutsy best friend, Alice is contemplating making a move on Harry. What's the worst that could happen? She's getting done at Blitz in a couple of weeks anyway and who knows what kind of fun they could have in the meantime. But with limited experience, she's not sure how to proceed. So when Harry needs a fake date for an awards banquet and he asks Alice, who is she to turn him down? Maybe this could be just the icebreaker she was hoping for.
"Did you have a good time tonight?"
There's a strange note in his voice, as though it means a lot to him that I did.
"Yes. I really did." It was nothing like a ball, no dancing, no glass slipper, but this was my Cinderella moment with my secret prince, and I'll remember it forever.
Socially awkward and mostly interested in coding and growing his gaming business, Harry avoids dating like the plague. The one woman he can't get out of his head, though, is his assistant Alice. Sweet, brilliant and simply gorgeous, she's everything he wants. But he knows he shouldn't even try to cross the line with her. The fact that he's her boss is one obstacle. The other is that he cherishes their friendship and doesn't want to do anything to destroy it. One fake date and a magical kiss later and Harry is done for. He knows Alice is the one for him–but she's leaving for college in a few weeks. Now he has to figure out if he can convince her to give a long-distance relationship a try or if what they have is destined to be a quick fling. Harry knows which one he'd cast his vote for.
"I've wanted to kiss you for months."
Didn't mean to admit that.
Her mouth opens in what looks like disbelief…
"Have you *really*?" Her voice is barely above a whisper.
A combination Cinderella retelling and office romance, Cinderella and the Geek was a quick-paced modern New Adult story that was absolutely adorkable and kept me smiling the whole time.
"Your mouth keeps me awake at night."
Air is so overrated. Which is just as well, since I've forgotten how to breathe.
"Should I be sorry?"
"I'm not."
"Neither am I." To prove my point, I kiss him again, an he pulls me hard against his chest.
This was my first time reading Christina Phillips' work but I have a feeling it won't be my last. Not only did the overall writing, storyline and characters draw me in immediately, but the romance was every bit as engaging and lovely as well. Set in England, we had dual POVs between Alice and Harry as they bumbled about in their relationship–both inside and outside the workplace. Now I have a feeling this may not be the romance for everyone as there was a clear lack of communication between our main characters and they had some preconceived ideas about each other that weren't necessarily true. So it may frustrate some readers.
However, I thought it was pretty realistic that Harry and Alice were clueless when it came to the opposite sex, being that they were rather introverted and, well, geeky in their own ways. Harry thought Alice was way too beautiful, sweet and smart for the likes of him, while she thought he was way out of her league as he was rich, successful and so well-traveled. Neither seemed to have a self-esteem issue. They simply had no clue how they appeared in each other's eyes which was ridiculously cute and lots of fun.
I felt like Alice was sort of the modern girl next door. She was gearing up for college, working in the meantime–albeit for two sexy bosses at a totally laid back RPG company. She didn't date, was very innocent, and actually quite leery of guys, thanks to her father running out on her and her Mum when she was young. Alice and Harry just suited each other so very well. He was a fantastic guy who was extremely smart and a true workaholic. But he had some tough issues he had faced in the past that still affected him today. It made it difficult for Harry to trust Alice or to even believe she'd want him for himself alone and not to get into his family's good graces. I felt bad for what he'd been through. But once they started communicating a bit, I loved where their relationship went.
A fake date between a couple with very real feelings for each other proved to be romantic and highly entertaining. I think Cinderella and the Geek had enough heart and laughs to make readers fall head over heels for the geektastic duo of Harry and Alice.
Book Info:

Publication: Published February 19th 2018 | Entangled Publishing, LLC (Embrace) |
From Christina Phillips a sexy, new romance with a hero you won't forget…
I'm not looking for love or a Happily-Ever-After because I know how that ends. I just need to concentrate on my degree and look after myself. But there's something about my boss, Harry, I can't resist. It's crazy since he's so hot and smart it should be illegal.
And then, just like Cinderella, I have my night at
the ball and a midnight kiss, and for a week all my sexy daydreams come true. That fake date changes my life in a way I could never imagine. It turns out, Harry wants me too.
But I'm off to pursue my dreams, and he's taking his business to the next level. There's no way this fairytale has a happy ending, but that doesn't keep me from wishing for it.