Cinderella's Scandalous Secret by Melanie Milburne: Isla is feisty, independent, and coming to terms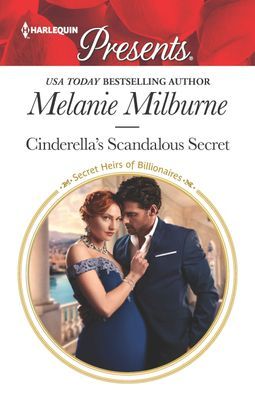 with an unexpected, but wanted, pregnancy. With a less than ideal childhood, she's worried she doesn't know how to be a good mom, but she also knows she won't make the mistakes of her parents. She's used to being on her own and unable to depend or rely on anyone.
Rafe is dedicated and focused on continuing to build his hotel empire. He's charming, suave, sexy, and commanding. He doesn't believe in love or commitment. He's content to enjoy brief relationships on his own terms until he's ready to move on.
Isla and Rafe enjoyed an intense few months together, but it all changed when Ilsa finds out she's pregnant. They have passion and chemistry, but they didn't get to know each other all that well during their fling. With no expectation of a commitment, neither was truly vulnerable or delved deep into their pasts or baggage. With a baby on the way, Rafe insists that marriage is the next step for them.
'Good. It will save me making a formal announcement. Gossip works faster anyway.'
Isla ignored the food and kept glaring at him. 'I'm not going to be bullied into marrying you, Rafe. You might be used to getting your way in the business world but you won't get your way with me.'
Their initial reactions to the pregnancy are shaped by their own pasts and baggage. Ilsa isn't prepared to fall in line and she challenges Rafe at every turn. Rafe is determined to show Ilsa that they can make a relationship and parenthood work. He's generous, giving, and determined to get his way. She makes him think about things differently and the baby puts things in perspective.
'This is like a game to you, isn't it?' Her voice didn't come out quite as reproving as she would have
liked.
'The fact that you're carrying my child is not a game to me, Isla.' His tone had a deep note of gravitas and a frown pulled at his forehead. 'Nor is the fact that we still feel something for each other.'
Cinderella's Scandalous Secret is entertaining with hope, heat, and angst. Melanie Milburne puts a modern spin on the surprise pregnancy trope. Ms. Milburne created an interesting cast of characters to include family and friends. Fans of Annie West and Michelle Green will enjoy Cinderella's Scandalous Secret.
Book Info:

Publication: Published September 1st 2019 | Harlequin Presents |
The maid has a secret
And it's getting harder to hide!
Isla McBain's affair with Rafe Angeleri was meant to be temporary, a chance to explore their passionate connection—but now she's carrying the famous hotelier's baby! This pregnancy will make headlines, but no one can know. Isla can't risk anyone digging into her heartbreaking past and ruining Rafe's impeccable reputation.
After learning about her pregnancy, Rafe is intent on sweeping her away to Sicily and marrying her! Isla is tempted beyond desire, but dare she step into the spotlight as Mrs. Angeleri?