In Blind Spot (The Evelyn Talbot Chronicles, #4) by Brenda Novak, Life had finally started to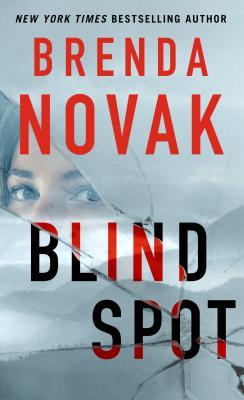 level out for new parents-to-be psychiatrist Evelyn Talbot and Sergeant Benjamin "Amarok" Murphy when the unthinkable happens. The couple has been through some horribly tough times in the past couple of years since meeting when Evelyn moved to Hilltop, Alaska, and built the Hanover House–a prison filled with psychopaths whom she studies and tries to rehabilitate. But now, Evelyn has been abducted while in her third trimester of an already risky pregnancy by a killer who knows too much about her. It will be up to Evelyn to keep her wits about her, trying to stay on the good side of an evil monster, while Amarok and a core group of individuals attempt to find Evelyn before the psychopath can harm her and her unborn child.
'He was growing more and more desperate, but all he could do was take what the investigation gave him, go from one bread crumb to the next, and pray the trail didn't end before he found her.'
Blind Spot was a nail-biting thriller that had my emotions all over the place–and frantically reading through the pages to get to the conclusion. And what an incredibly moving yet explosive ending it was for what it sounds like could be the final book in the Evelyn Talbot Chronicles!
Amarok thought of Evelyn and what she meant to him. He'd give anything for her and their unborn child, even his life. "When something happens to someone you love, you do what you have to do," he said.
It's true that I'm a *huge* fan of Brenda Novak's work. I do also love a good psychological thriller. So this series has been a dream for me, with the multidimensional characters, the complicated plots, the wonderful romance between our hero and heroine, and the level of details regarding psychopathy Novak included to make it all ring true. That being said, this book (and series) will not work for all readers. She really did dive right into the minds of a few psychopaths over the course of the series, parts of it being told from their rather disturbing POV. But it was done in a way that wasn't sensationalizing the crimes or the horrendous things they had done. Instead, I thought it was insight into what had led the patients at Hanover House to reach that point, as well as giving a sense if Evelyn's work could possibly rehabilitate them over time.
There's so much I'd love to discuss here but this is the type of intricately woven story that you have to read for yourself to get the full effect. Although, as you can imagine, it was quite harrowing when Evelyn was abducted while about six months or so pregnant–and it was a high-risk pregnancy at that–leaving her fiance Amarok (LOVE him so much!!!) to put the pieces together and rescue Evelyn. They both went to hell and back in this book. The level of emotions Amarok and Evelyn had to work through was daunting but I loved how smart they were in their actions; how much you could tell they truly cared about each other. And I must say that even though we found out early on who the kidnapper was, getting the full details behind the events leading up to the abduction and how it was handled by that person was surprising and very interesting actually. But I am happy to mention that things did end on a positive note as you would expect from Novak.
Absolutely riveting, Blind Spot was a gripping story of courage in the face of evil, a race against time, and a couple whose belief in each other saved the day. Fans will undoubtedly be wowed by this installment in an already stellar series.
Book Info:

Publication: Published August 27th 2019 | St. Martin's Press | The Evelyn Talbot Chronicles #4
New York Times bestseller Brenda Novak's Evelyn Talbot series returns, with a heavily pregnant Evelyn being held hostage.
With Jasper Moore, the privileged boy who attacked her when she was only sixteen, finally caught and in prison, Dr. Evelyn Talbot, founder and head psychiatrist at Hanover House (a prison/research facility for psychopaths in remote Alaska), believes she can finally quit looking over her shoulder. She's safe, happier than she's ever been and expecting her first child. She's also planning to marry Amarok, her Alaska State Trooper love interest and the town's only police presence. But before the wedding can take place, a psychopath from the much more recent past comes out of nowhere and kidnaps her in broad daylight. Instead of planning her wedding, Evelyn finds herself doing everything she can to survive, save her baby and devise some way to escape while Amarok races the clock to find her – before it's too late.