Claimed for the Billionaire's Convenience by Melanie Milburne: Holly loves all things weddings, but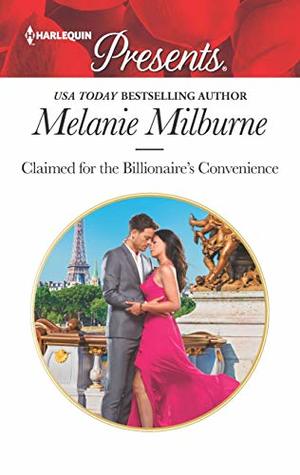 especially the flowers. She loves her job as a florist and specializes in weddings. After being ditched, twice, by her now ex-fiancés, she is determined to remain single. She's not looking for a relationship and definitely not going to get involved with a notorious playboy.
Zack is the lawyer you go to if you're getting divorced. He's dedicated and committed to his clients and very successful. He doesn't believe in love or commitment after watching his dad continue to struggle after his parents' divorce over two decades ago. He's also sexy, charming, wealthy, and chased by women.
Holly and Zack meet at a party and both feel the immediate attraction. Holly is determined to stay far away from a man where woman practically fall at his feet. They banter and flirt and she makes it clear that she doesn't want to engage.
Holly's mouth twitched and she hated him for making her smile. She refused to be charmed by him. By any man. "You're impossible. I've never met a more annoying man."
"And I've never met a more fascinating woman."
"Because I'm the only woman who's ever resisted you?"
"So far."
Things change when a well-intentioned friend announces their engagement. Both have their reasons for pretending to be engaged, but it does give Zack an excuse to continue pursuing her. They have to spend time together and they find encouragement, understanding, and a good listener in each other. With each day, their fake relationship begins to feel a little more real.
He smiled and came back over to kiss her. Then he straightened, his expression flickering with something before he asked, "Can you take a few days off work? I know it's short notice but I have a conference in Paris Monday to Friday next week. We could fly over for the weekend so we have a couple of days together before the conference starts."
Claimed for the Billionaire's Convenience is fast-paced, sexy, and entertaining. Melanie Milburne featured family, friendship, humor, and heart. Ms. Milburne developed a good mix of characters and plenty of romance. Fans of Penny Reid and Michelle Major will enjoy Claimed for the Billionaire's Convenience.

Book Info:

Publication: Published December 13th 2018 | Harlequin Presents |
To redeem his notorious reputation…
She'll agree to wear his ring!
When headlines mistakenly announce florist Holly Frost's engagement to ruthless celebrity divorce lawyer Zack Knight, she's stunned. His lethal charisma may have ignited a fire in her blood, but she's finished with fairy tales. Yet Zack seems determined to turn this scandal, and their red-hot attraction, to their mutual advantage… Swept away to Paris, Holly must remember this alliance is only temporary—even while wearing his diamond!
Escape to Paris with this marriage of convenience story!