Claiming His Out-Of-Bounds Bride by Annie West: Olivia has an elaborate wedding planned with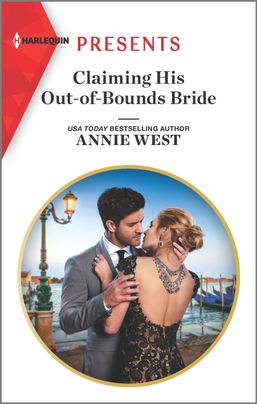 Carlo Satori. She likes him, but doesn't love him. The marriage is more of a business arrangement between her family's and the Satori's.
Days before the nuptials, Carlo jilts Olivia, but doesn't have the decency to do it in person. To save face and keep the merger in place, Carlo's older brother, Alessandro volunteers to be the groom. Olivia decides it will be okay to go through with this marriage of convenience.
Olivia is a wonderful heroine. The author shows that she is both courageous and vulnerable. The feeling she begins to have for her new husband are slow to build. She has been on her own for so long, it's hard for her to trust.
Alessandro at first is shown sort of brooding and very reserved. The author reveals how he has needed to rescue his younger brother many times. Alessandro has been the victim of neglect on many levels since his parents seem to only worry about their own schedule of fun. He has been attracted to Olivia ever since he first saw her with Carlo, but was a gentleman and hid his feelings. I liked the slow reveal of his passion and love for Olivia.
I like a wide variety of romance and have been pulled back into Harlequin Presents with the different locations and charming love stories.

Book Info:

Publication: August 1, 2020 | Harlequin Presents |
Business and forbidden pleasure collide in this Italian marriage of convenience romance from USA TODAY bestselling author Annie West.
No marriage? No merger. They had only one option.
He'd denied his attraction while she'd been promised to his brother. So when Olivia Jennings is jilted days before her elaborately planned wedding, Alessandro Sartori offers himself as groom. Their families will get the merger they want. And he'll finally get the bride he craves.
Orphan Olivia has always felt invisible. But the desire she discovers with her unexpected husband makes her feel seen for the very first time. Theirs is a paper marriage, but what will become of them if they choose to make their vows real?
From Harlequin Presents: Escape to exotic locations where passion knows no bounds.