In Engagement and Espionage (Solving for Pie: Cletus and Jenn Mysteries #1) by Penny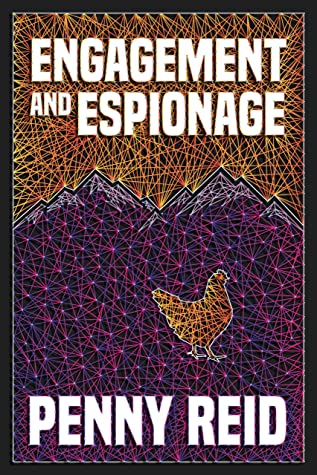 Reid, Jennifer Sylvester and her new fiance Cletus Winston are just trying to muddle through each day of their busy lives and eventually spend a little bit of time together. It doesn't seem like much to ask for. But when a whole bunch of chickens are killed–strangled, no less–and then a host of other strange things start happening in Green Valley, Cletus and Jenn are on the case. The cops might not have the time to devote to the mystery, but the dynamic duo of Sylvester & Winston will make the time. Even if it puts them in harm's way.
"You mean they were strangled?" I asked.
…Jackson tilted his head back and forth. "More or less."
"I see." I made a fist, narrowed my eyes. "A chicken choker… Talk about a clusterflock."
A spin-off from Penny Reid's uber popular Winston Brothers series, Engagement and Espionage begins a raucous new cozy mystery series featuring none other than Jenn and Cletus! But don't worry. The whole charming Winston clan and all the offbeat locals were part of the shenanigans, too–as you might imagine.
'Darn it all! Where were his dubious morals when I need them?'
Oh my goodness, what fun I had reading about Cletus and Jenn's latest adventure. This new series is still set in the same location, with the same cast as the Winston Brothers books are. And this takes place basically right after Beard Science. It would probably be best to read that first so you know Jenn and Cletus's backstory, but you can jump in here with some perseverance where Reid pulled in their small-town romance and mixed it with a whodunit and lots of crazy-fun antics.
I can't really say a whole lot about the plot without giving too much away as everything builds from one odd event to the next. But as for our characters, thankfully Cletus was still his tricky, super sexy, awesome alliterator, smarter-than-he-appears hillbilly self and doted on his betrothed, Jenn, to the point of distraction. Sigh.
And Jenn, well, she was as sweet and loyal as ever *but* she also started to truly stand up for herself–making me want to throw confetti and yell "yee haw" for some strange reason… (lol) But seriously, Cletus and Jenn made a terrific team while they attempted to solve the chicken choker mystery. Their romance suffered a few hiccups along the way. Particularly from their lack of "quality" time. Although it all ended in a wonderful place and left me clamoring for the next mystery that Reid will send our way. Definitely recommended.
Book Info:

Publication: Published July 14th 2020 | Cipher-Naught | Solving for Pie: Cletus and Jenn Mysteries #1
Jennifer Sylvester made her deal with the devil . . . and now they're engaged!
But all is not well in Green Valley. A chicken choker is on the loose, 61 dead birds most "fowl" need plucking, and no time remains for Jennifer and her devilish fiancé. Desperate to find a spare moment together, Jenn and Cletus's attempts to reconnect are thwarted by one seemingly coincidental disaster after another. It's not long before Cletus and Jenn see a pattern emerge and the truth becomes clear.
Sabotage!
Will an undercover mission unmask the culprit? Or are these love-birds totally plucked?
'Engagement and Espionage' is the first book in the Solving for Pie: Cletus and Jenn Mysteries series, is a full-length cozy mystery, and is a spin-off of Penny Reid's Winston Brothers series. This novel is best read after 'Beard Science,' Winston Brothers #3.