Claiming the Rancher's Heir by Maisey Yates is the second story in her Gold Valley Vineyards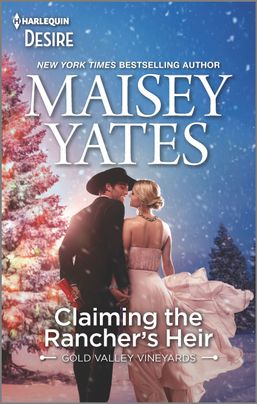 series, an enjoyable and sexy enemies to lovers romance.
Creed Cooper and Wren Maxfield mix like oil and water. But as annoying as they find the other, they also harbor a secret attraction. For business reasons, it makes sense for the two winery families to work together to promote their products and Wren has come up with a plan to do just that, putting her dislike of Creed aside for the good of the winery. She wants to have a wine festival at Christmas, and she'll need Creed's help to pull it off. But putting them in close quarters results in a steamy night together – and an unexpected pregnancy. Creed's been through this before, and it didn't end well for him. This time, he's determined to be a father to his child, and marriage to Wren is the solution to his problems. But will Wren agree? And can it lead to a real happy ever after?
I'm a sucker for enemies to lovers romance trope stories, so I was really excited to read this and it did not disappoint! Wren and Creed were secondary characters in the first story in the series, Rancher's Wild Secret, which featured Wren's sister Emerson and introduced the families and I really enjoyed it as well. And of course, it's a spinoff series to the author's Gold Valley series (which is itself a spinoff of her Copper Ridge series), just with more of a focus on wineries than ranches. The nice thing about these series is that it's easy to hop in and out as each contains a complete couple romance but the secondary characters make you want to read them all.
While the 'enemies to lovers' conflict is strong at the beginning, it's Creed's personal history that results in most of the issues for him and Wren. His teenaged lover got pregnant but claimed the baby belonged to someone else, so for the sake of the baby he'd stayed far away and watched his son be raised by other parents. It's a deep hole in his heart and his motivation for wanting to be with Wren from the moment she tells him she's pregnant, deeply afraid that he will see another child slip through his fingers.
Wren has every intention of letting Creed be a father. She agrees to a short term marriage so that when the baby is born he'll be named on the birth certificate with parental rights with the option then of getting divorced. But of course, as they spend time together, they discover how right they are for each other. It take's Creed longer to admit to it, but he comes through in the end. I liked everything about this story, including all the secondary characters and how things are resolved, and there is a sweet epilogue too. Maisey Yates has hooked me into this series and I can't wait to read Wren's sister Cricket's story next!
Book Info:

Publication: Nov 01, 2020 | Harlequin Desire | Gold Valley Vineyards #2
Arrogant, infuriating, insufferable…
And the sexiest man she's ever met.
Wren Maxfield hates Creed Cooper, but now she's working with the wealthy rancher over the holidays! Those strong feelings hide undeniable chemistry…and one wild night results in pregnancy. Now Creed vows to claim his heir. That means proposing a marriage in name only. But as desire takes over, is that a deal they can keep?