The Boy Toy by Nicola Marsh: Samira has been avoiding having to see her mother after she pushed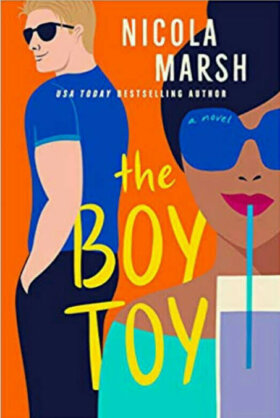 her into a failed arranged marriage, however some time has passed now and Samira is happy with where she is; she has a thriving business at 37 and with a new exciting job Down Under. Thinking it is ok to reach out and reconnect with her traditional mother Samira head to Australia, she however was not expecting to meet sexy stuntman Roy Radcliffe.
After sharing a steamy night together neither expect to see each other again that is until Roy realised that Samira is his new dialect coach. With the two getting closer with each of their sessions how will things turn out with Samira's mother constantly pressuring her to settle down with a nice Indian guy but her heart belongs to someone that definitely does not fit her mothers criteria?
I really enjoyed reading The Boy Toy by Nicola Marsh, not only was this book a hilarious read but it was very relatable. I absolutely loved that Marsh showcase the ins and outs of what is expected of a girl from an Indian background and the havoc that can come with these expectations. This book was not just a superficial romance but tackles head on a number of issues such as speech disorders, arranged marriages, family pressure, divorce and self acceptance and awareness.
Samira and Roy were both brilliant characters that shared a steamy chemistry. I loved Roy, he was honest and likeable and we got to know more and more about him as he opened up to Samira with each one of their sessions. I have to say I didn't have any issue with their age gap, if anything I enjoyed the extra layer that it added.
Overall The Boy Toy was a quick easy read that had me craving a nice hot curry with loving every second of this complex romance.

Book Info:

Publication: November 17th 2020 | Berkley |
A woman ready to give up on love discovers that age is truly just a number in this heartwarming and steamy new romantic comedy by USA Today bestselling author Nicola Marsh.
For almost a decade, successful 37-year-old Samira Broderick has used her bustling LA practice as an excuse to avoid a trip home to Australia. She still resents her meddling Indian mother for arranging her marriage to a man who didn't stick around when the going got tough, but now with a new job Down Under, she's finally ready to reconnect with her. And while she's there, a hot international fling might be just what she needs to get out of her recent funk.
Aussie stuntman, Rory Radcliffe, has been hiding his stutter for years by avoiding speaking roles. When a job he can't refuse comes up as a reality show host, he knows he'll need some help for the audition: a dialect coach. But he finds himself at a loss for words when he discovers it's the same sexy woman with whom he just had a mind-blowing one-night stand…
Samira can think of many reasons why Rory is completely wrong for her: he's ten years her junior, for one, and he's not Indian–something Samira's mother would never approve of. Even if things were to get serious, there's no reason to tell her mother…is there?