In Colleen's Choice by Holley Trent, Colleen Sanders knows that the brains behind the former business partners Whitman and Sanders, was Sam Whitman. Especially after seeing her father fritter away the family farm and declining any helpful suggestions from her mother years ago.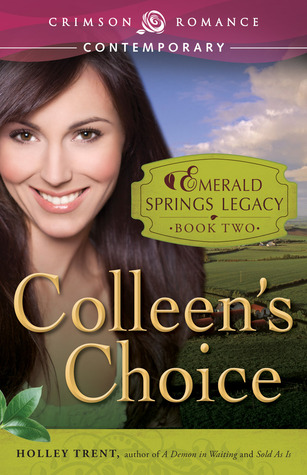 Now she is in charge of Split Acres, but her father left things in such a state that no matter how much of her savings she has used to keep it afloat it may not be enough any longer. So when her father hired Alan without her knowledge when she can't afford to keep him she plans to fire him immediately. Until Alan makes her a deal, to keep him for a month without pay until the end of the month and he will repair everything he can on his own, which will save her lots of money in the end.
Alan knows that as soon as Colleen knows his real identity his employment may be at risk. So he delays that information as long as he can. Which just happens to be the day after they sleep together, which is how he then offers to marry her to help her save the farm.
If Colleen marries Alan, he will have access to his trust according to the clause his father made, then he will use that money to help her and while she will help him get his independence from his family. But his real reasons for being there are still secret, and once Colleen finds out this marriage will be at risk.
Alan wants Colleen back in his bed, but they made an agreement that it would only be business. Now he will do many underhanded things to try and entice her back into his bed. But having his young sister drop in will complicate things and bring his family and the truth down on him sooner than he wishes.
Alan started to fall for Colleen and her ways, and dreamed of having his own farm with her and the independence they both want from their family. They will make their own success in the business, without the help of anyone else. Only now that his family has dropped in and dropped a bomb on his marriage, Alan will have to find a way to convince Colleen to give him and their marriage a chance. That he truly does love her and not her farm.
Colleen and Alan have a tough road ahead, while it looks like he can smooth most of the way for her, she also needs to make her own way. For Colleen has a tough time trusting people, and Alan has broken that trust, which means that Alan will have to find a way to prove to her how much she means to him.
If you want a sweet but heartbreaking read, don't miss Colleen's Choice by Holley Trent.
Book Info:

March 3rd 2014 by Crimson Romance
Meet Colleen, the second of five unforgettable characters in the Emerald Springs Legacy.
Life in the small town of Emerald Springs, Washington, is anything but slow and peaceful. An old feud between former business partners Whitman and Sanders keeps competition on a high burner, fueling resentment, renewing rivalries … and love. Now someone is trying to bring down Emerald Tea Farm, and it's up to both families to protect their future while still wrangling over the past.
Colleen Sanders watched her father, Joe, fritter away the family farm for twenty years. Now that she's in charge of Split Acres operations, she plans to turn the outfit around, with or without his help. Unfortunately, with the farm finances in a mess and an unusual uptick of suspicious disasters to contend with, her savings aren't enough to keep the business afloat.
So she marries a stranger to get it.